My husband and I are on a tight budget, but we still want to do something fun to celebrate our wedding anniversary.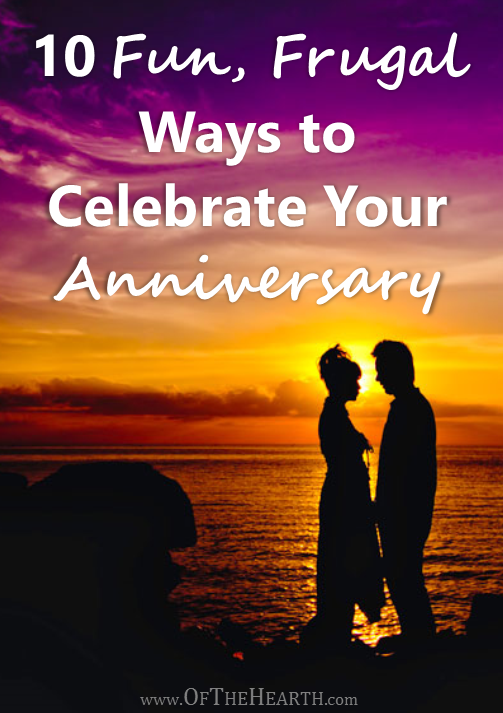 Thankfully, I've thought of a number of fun ways to celebrate without spending a lot of money.
Fun and frugal anniversary celebrations
Relive your first date.

What did you wear on your first date? Where did you go? What did you do? What did you eat? See if you can recreate your date! Have fun reminiscing as you retrace your steps and reflect on things like your nervousness, first impressions, and how you felt after the date.

Make fun lists for your future.

At first glance, making lists together doesn't sound very exciting. However, it really can be! My husband and I have this book called My Future Listography. It contains space to make various lists for your future: places you want to visit, recipes you want to try, sports or games you'd like to play, memories you don't want to forget, etc. It's so much fun to fill in these pages! Of course, you can continue to use these lists beyond your anniversary.

Go on a romantic picnic.

A nice dinner out can be costly, but you can pack a very nice picnic for a reasonable price. Pack a thick blanket to cuddle up on, a yummy entrée, some sparkling cider or grape juice, and perhaps some foods that you can enjoy feeding to one another (strawberries, chocolates, grapes, etc.). Take music to listen to and find a secluded spot for your romantic meal.

Take a staycation.

Getaways are nice, but they also tend to be costly. Consider vacationing at or near home instead. Staycations often have a reputation for being boring, but they can actually be quite fun and interesting. Check out these tips and ideas for having an enjoyable staycation.

Bury a time capsule in your yard.

If you can find a small, sturdy, and watertight container, you can fill it with items that are special to you today (a recently released book you've enjoyed reading together, a family photo from your last vacation, handwritten letters for one another, a ticket stub from the last movie you saw, etc.). Think of how fun it will be to open this capsule and see these items in a decade or two.

Recreate your wedding reception.

What did you eat at your wedding reception? What music did you play? See if you can prepare these foods and listen to these songs. While you eat and listen, you can look at your wedding pictures and recall all you felt on that special day.

Go out for coffee and dessert.

If you want to go out for something to eat, you can go for coffee and dessert instead of a meal. This will likely save you some money. Choose a nice restaurant, a cozy café, or a quirky coffee shop. Play games, people watch, or simply visit while enjoying your treats and coffee.

Go fishing.

Fishing is hardly the first activity that comes to mind when I think about celebrating my anniversary! However, it is an activity that many men (and plenty of ladies, too) enjoy. It's a relaxing activity that provides lots of time to visit. Subsequently, it's a pretty nice way to celebrate your anniversary.

Attend an inexpensive concert or theater production at a local community college or high school.

Community colleges and high schools often put on surprisingly good shows that are very affordable. Don't just attend these productions; make an event out of them! Get dressed up for the occasion and grab dessert or go on a moonlit walk before returning home.

Give your spouse a year of preplanned dates.

Going on regular dates provides the quality, one-on-one time that is needed to keep the lines of communication open and maintain feelings of closeness in your marriage. When life gets busy, it's not always easy to come up with date ideas, so why not plan a year's worth of dates in advance? I did this for my husband one year for Valentine's Day, and it turned out to be a fabulous gift (see details about preparing this gift here).
Now I just need to decide which idea to use this year!
Do you have any additional ideas? How have you celebrated an anniversary without breaking the bank?
This post contains affiliate links. See About the Blog on the menu for details.
Shared on the following link-ups:
Titus 2sday, Wifey Wednesday, Coffee and Conversation, Wedded Wednesday, WholeHearted Wednesday, Titus 2 Tuesday, The Art of Home-Making and Monday's Musings.