National Grandparents Day, celebrated annually on the first Sunday after Labor Day, is a day set aside to (1) honor grandparents, (2) give grandparents an opportunity to show love for their children's children, and (3) help children become aware of the strength, information, and guidance older people can offer (source).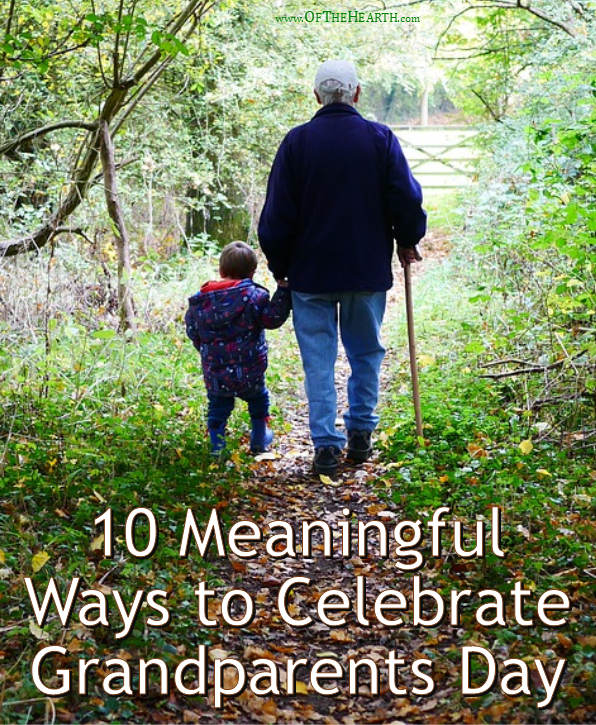 Though National Grandparents Day has been an official holiday in the U.S. since 1978, I only learned about it recently. I've been considering some fun and meaningful ways that I can help my children celebrate this day with their grandparents.
Meaningful Grandparents Day activities
Create a family tree.

Children can sit down with their grandparents and draw out a family tree. While making the tree, grandparents can share stories about various family members. If your children don't have any living grandparents, you can still create a family tree and use it to teach them about their grandparents and other relatives!

Interview a grandparent.

Children can ask their grandparents a variety of questions in order to learn more about them (idea source). Here are some question examples:

Where were you born?
What did you do for fun when you were a child?
What was your first job?
How did you meet grandma/grandpa?
If you could give me one piece of advice, what would it be?

Bake a treat together.

Children can ask their grandparents to show them how to bake a traditional family treat. While baking, grandparents can pass along tips and snippets of family history.

Host a family reunion.

Invite relatives who live both near and far to come see the grandparents and visit with one another over Grandparents Day weekend.

Share what you love about grandma and grandpa.

Children can tell their grandparents what they appreciate about them. When possible, it's nice to do this in person (while sharing a meal together, for example), but sharing these thoughts in a card, letter, or drawing is also meaningful.

Have a grandparent-grandchild sleepover.

Grandparents can spend the night at their grandchild's house (or vice versa). Parents can arrange for pizza delivery, a movie to watch, games to play, etc. in order to allow grandparents and grandkids to sit back and have a lot of fun!

Play a retro game together.

Find out what board games and other activities were favorites of grandma and grandpa during their childhood or teen years. Get copies of these games or learn these activities so that children, parents, and grandparents can all play them together.

Take a road trip.

Children can travel with their grandparents to see some of the places that were important to them when they were growing up (where they lived, where they went to school, etc.).

Learn a grandparent's hobby.

Children can learn a new hobby from their grandparents! Grandparents can teach about knitting, fishing, woodworking, bird watching, sewing, gardening, etc.

Volunteer at a nursing home or senior center.

Consider volunteering with grandparents who don't have grandchildren who are able to visit them. This is great for anyone, but it may be especially meaningful for children who live far from their grandparents and children who don't have grandparents who are living.
These are some wonderful ways to celebrate Grandparents Day! I'm glad I have this list because we will be able to use so many of these ideas over the next few years.
How do you celebrate Grandparents Day? If you are a grandparent, how would you like to be honored on this holiday?
Shared at the following:
Coffee and Conversation, The Art of Homemaking, and AIM Link Party.
Save
Save
Save
Save
Save