Though I do try to be grateful throughout the year, I really appreciate the general air of gratitude that pervades the month of November. I want to take advantage of this to boost my family's focus on thankfulness.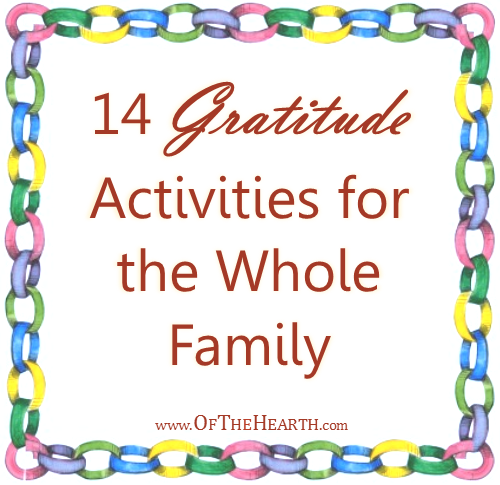 One easy way to do this is to engage in gratitude activities. These take many forms, so there's bound to be one or more that are perfect for each of our families!
Activities that heighten gratitude
Make a gratitude inventory.

Keep a blank journal on hand in which family members can list things for which they are grateful (younger family members can draw pictures instead of writing words). You can simply document things as they come to mind or you can set a goal, such as listing 500 or 1,000 things before the end of the month.

Say grace before eating.

Make a habit of saying a prayer of thanks to God as a family before eating meals.

Write gratitude letters to community servants.

As a family, discuss the important role of community servants (police officers, firefighters, etc.) and write thank-you cards for these individuals.

Make a gratitude paper chain.

Give each family member strips of colorful paper on which to write or draw images of the things for which they are grateful. Use these strips of paper to form a chain that you can use to decorate your home for the coming weeks.

Play gratitude 20 questions.

Have one family member (the answerer) think of something for which he or she is thankful. The remaining family members (the questioners) then ask questions to determine what thing the answerer has in mind. These questions must be stated in such a way that they can be answered with a simple "yes" or "no". The goal is for the questioners to determine the answer in only 20 questions.

Sit family members in an appreciation chair.

Set a chair in the middle of the room and designate it as the "appreciation chair." Gather around the chair and have one family member sit in it. Those gathered around can bestow praise, gratitude, and encouragement on the loved one seated in the appreciation chair. Have each family member take a turn sitting in it.

Create a gratitude tree.

Arrange some small tree branches in a planter or vase. Cut leaves out of colorful paper and give each member of the family a couple of leaves on which to write or draw images of the things for which they are grateful. Hang the completed leaves from the tree branches. Consider displaying the tree as a Thanksgiving centerpiece.

Write 365 thank-you notes.

Purchase several packages of cards or some stationery and write one thank-you note on each day of the coming year. Family members can take turns writing the cards or you can sit down and write them together. Send thank-you notes to friends, neighbors, government officials, pastors, librarians, teachers, etc.

Read books about gratitude.

Get your hands on some books that address the topic of gratitude and read these aloud together. Some great books for families include The Blessings Jar, Thanksgiving Is for Giving Thanks, The Thankful Book, and Being Thankful.

Make a gratitude collage.

Use images from magazines and photos taken with a camera to create a collage that illustrates things for which you are grateful. This is a wonderful activity for family members of all ages, but especially for younger children who may not be able to write or articulate their gratitude very well.

Study and memorize Bible verses about gratitude.

Look up Bible verses about gratitude. Study and memorize these as a way to hone your focus on gratitude. Good places to start include 1 Thessalonians 5:18, Colossians 3:15-20, and James 1:17.

Set up appreciation jars.

Give each family member a jar or similar receptacle to decorate. Once they are decorated, set these out on a bookshelf or mantle. Place note cards near the jars and encourage your family members to drop gratitude messages and encouraging words into one another's jars throughout the coming month.

Make a gratitude tablecloth.

Cover your dining table with banner paper or kraft paper and have each member of the family write or draw pictures of things for which they are grateful. You can leave the tablecloth on the table for a while so you can reflect on your many blessings and add to it as additional things come to mind. If you'd prefer, you can use fabric markers and puff paints to document your gratitude on a cloth tablecloth. This provides you with a more permanent memento.

Volunteer to serve the needy.

Take the whole family to a soup kitchen, food bank, or similar charity and volunteer together. Note: If you have young children, then you may not be able to volunteer as a family because many organizations have age restrictions for volunteers. In a situation like this, you can still get the whole family involved by teaching young kids to drop coins into donation kettles and helping them select toys to donate to toy drives.
Though there are a lot of ideas here, I'm sure you can find even more if you conduct a quick Pinterest or internet search. Of course, you may already have additional ideas in mind. If you do, please use the comments section below to share your ideas with us!
This post contains affiliate links. Click here to read about what this means. 
Shared on the following link-ups:
Shine Blog Hop, Word Filled Wednesday, Titus 2 Tuesday, Faith and Fellowship, Think Tank Thursday, Coffee and Conversation, Tuesday Talk, Titus 2sday, The Art of Home-Making and Monday's Musings.
Save