While there is no substitute for saying the words "I love you," there are a number of things we can do to demonstrate love to our husbands.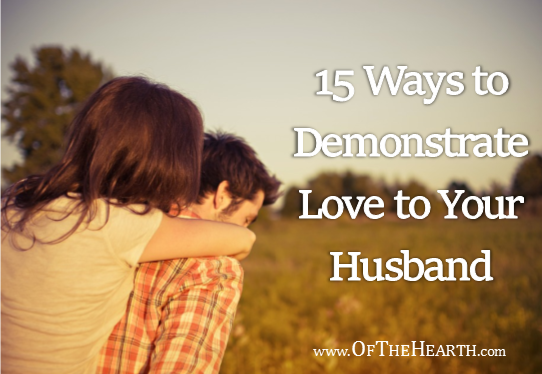 These simple, everyday actions are great complements to the words of love we speak. They build our husbands up and help them understand just how much they mean to us.
Ways to show love to your husband
Pay attention when he is talking.

Put down your phone, turn off the TV, or turn away from the dinner you are preparing when your husband starts to share. Let him know you care by giving him your full attention.

Slip his favorite candy bar into his lunchbox or briefcase.

Grab your husband's favorite candy bar next time you grocery shop. When he's not looking, sneak it into his lunch or briefcase. Finding it will be sure to brighten his day!

Be the first to apologize after an argument.

Humbling yourself and quickly apologizing after a quarrel shows that you value peace and communication with your spouse more than being right.

Flirt with him.

When you flirt affectionately with your husband, you show him that you're still interested in him. Build him up in this way by flexing your flirting muscles. Not sure how to do this? Check out this post for 20 easy ways to flirt with your husband.

Pray for him.

Prayer is powerful! It is perhaps the single most significant thing you can do for your husband. Pray for him and you'll see the Lord do wonderful things in his life.

Send him encouraging text messages or emails throughout the day.

Little words of encouragement sent to your husband throughout the day can really uplift and encourage him. Even the most simple of messages can let him know how much you care!

Take interest in the things that interest him.

Take time to watch your husband's favorite sport with him or ask him about the car he is restoring. Doing this shows him that you care and want to learn more about him.

View his quirks as endearing, not annoying.

A trivial quirk—a facial expression, a tone of voice, a mannerism, etc.—can become a wedge that divides a husband and wife. Don't let this happen in your marriage! Appreciate that these quirks make your husband unique. Find additional tips for embracing quirks here.

Initiate sex.

Many men feel particularly loved when their wives are physically intimate with them. Therefore, simply initiating sex is a powerful way to demonstrate your love to your husband.

Give him time to spend with his friends.

Husbands need time to spend with their guy friends. By freeing up time for him to spend with his friends, you allow him to get some fellowship and refreshment that he really needs.

Brag about him.

Instead of complaining about your husband to friends and family, brag about him! He'll know he's appreciated when you share about how he fixed the leaking faucet and always keeps the lawn mowed.

Give him a welcome home kiss when he comes home from work.

You may be tired and ready for your husband to help with the kids or another task when he arrives home in the evening. Try to muster enough energy to let him know just how glad you are to see him by greeting him with a kiss before asking for his help.

Don't expect him to read your mind.

After they've been married for a while, many wives stop stating their expectations and begin expecting their husbands to know what they need and want. This is problematic because husbands can't read the minds of their wives. Clearly communicating expectations is an easy way to be loving and respectful.

Take him on a romantic date.

Arrange for a babysitter and make plans to take your husband on a romantic date. Go on a scenic drive, enjoy a picnic dinner, or grab dessert and coffee at a local café. Do whatever your husband would enjoy. Need date ideas? Find over 100 ideas in this post.

Thank him for working so hard to provide for your family.

If your husband is the breadwinner for your family, then thank him sincerely for all the hard work he puts in to provide financially for you and your children.
My husband sure appreciates it when I engage in these actions! Would your husband feel the same way? What other actions do you use to demonstrate love to your husband?
Shared at the following link parties:
The Art of Home-Making, Titus 2 Tuesday, Tuesday Talk, Coffee and Conversation, From House to Home, Shine Blog Hop, Weekend Wind Down, and Monday's Musings.