After being cooped up indoors for a good portion of the winter and spring, my daughter and I are loving the summer sunshine and warm temperatures. She's not capable of running and jumping yet, but that doesn't mean she can't enjoy playing outside.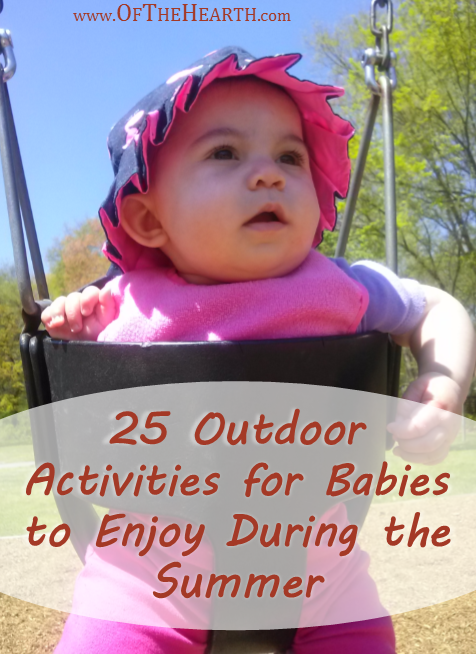 There are a number of age-appropriate outdoor activities that infants can take part in during the summer months. Here are 25 of these activities.
Outdoor summer activities for infants
Read books while sitting on a blanket in the shade of a tree.
Swing in a baby swing.
Gently ride down a slide on the lap of a parent or older sibling.
Go for walks through various settings (meadows, neighborhoods, wooded areas, etc.).
Watch birds perch on tree limbs or eat at birdfeeders.
Look at flowers in bloom. Gently feel their petals (make sure baby keeps flowers away from his or her mouth).
Listen to wind chimes and/or watch windsocks blow in the breeze.
Stand or crawl on grass and feel its texture (make sure the grass is free of fertilizers and pesticides).
Splash in a kiddie pool.
Eat fruit or breastmilk popsicles on hot days.
Enjoy watching and popping bubbles blow by a parent or sibling.
Take in the sights, sounds, and tastes of a farmers market.
From a safe distance, watch and listen to heavy equipment work at a construction site.
Feel the textures of rocks, twigs, pinecones, and sand (make sure baby keeps these away from his or her mouth).
Play with cups and similar toys in a water table (or a large bowl or tub of water).
From a safe distance, watch and listen to a parent mow the lawn.
Dance while taking in the sounds and sights of an outdoor concert.
Enjoy the sights and sounds of the zoo.
From a safe distance, enjoy the sights and smells of a parent using a barbeque grill.
Take in the sights and sounds of a state fair.
Watch and listen to the running water of a brook or small stream.
Play with paper streamers on a breezy day. Watch as the wind blows the streamers.
Sit on a blanket with several balls and an empty basket or box. Drop the balls into the basket or box.
Feel the raindrops while going for a walk during a light rainfall (make sure there is no lightening before going outside).
I'm excited for my daughter to enjoy these activities!
What additional ideas can you add? What outdoor summer activities have your babies enjoyed?
Shared on the following link-ups:
Summer Family Fun, Coffee and Conversation, Titus 2sday, Titus 2 Tuesday, The Art of Home-Making, Frugal Crafty Home, Making Your Home Sing, Saturday Soiree, Weekend Wind Down and Shine Blog Hop.