We all know how good it feels to smile and how having something about which to smile can brighten our days. Unfortunately, my family has had a lot weighing on our hearts and minds lately, so we haven't been smiling as much as we usually do.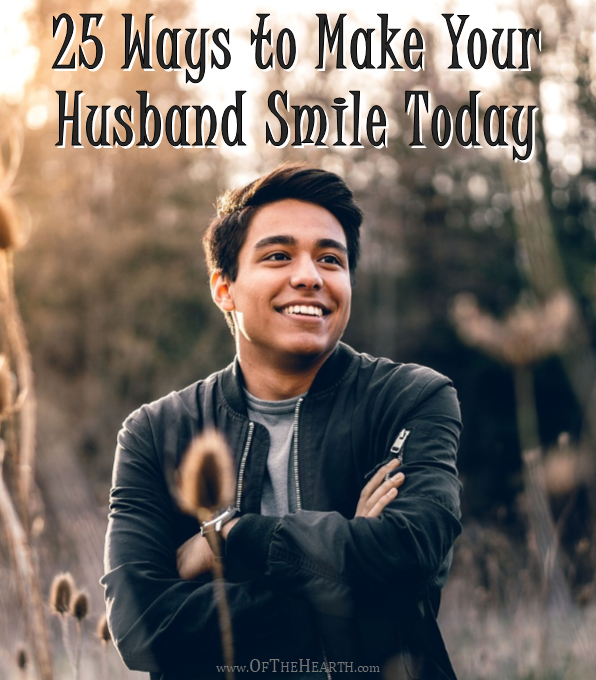 I want to bring cheer to my husband, so I've come up with some ideas for bringing a smile to his face. Would these make your husband smile, too?
Ways to make your husband smile
Tell him you love him and give him an enthusiastic kiss
Wash and detail his car
Surprise him with a date
Hide an encouragement note in his lunchbox
Put googly eyes on items in his lunchbox
Complete some of his household chores so he can relax
Share a joke or funny meme with him
Grab his favorite candy bar or snack from the store
Declutter the bedroom (or the kitchen table, entryway, or whatever other area is unsightly and difficult to use due to clutter)
Compliment something specific about his appearance
Send him a text message telling him you miss him while he is at work
Initiate sex
Make his favorite dish for dinner
Dress nicely and put extra effort into your appearance next time you go out together (even if you're just going to the grocery store or a family dinner)
Give him a backrub
Tell him you appreciate all he does
Let him sleep in on Saturday morning
Get him tickets to see his favorite sports team (or comedian, musician, etc.)
Tidy up the house before he comes home
Be enthusiastic about visiting his family or friends
Notice when he needs new underwear or socks and get these for him before he asks
Reminisce about humorous moments you experienced earlier in your relationship
Watch a funny movie together
Give him time to spend with his buddies
Meet him at his work for lunch
It's interesting that I find myself smiling when I complete one of these gestures for my husband. I shouldn't be surprised, though, given what the Bible says in Proverbs 11:25:
"A generous person will prosper; whoever refreshes others will be refreshed."
What would you add? How do you bring a smile to your husband's face?
Shared at the following:
Tuesday Talk and AIM Link Party.
Save
Save
Save
Save
Save
Save
Save