Several weeks ago I wanted to let my toddler paint, but all of the paper we have around the house gets too wet and tears when she uses paint on it. I decided to cut some shapes out of cardboard for her to paint. I figured the cardboard wouldn't tear and we could talk about the shapes to help solidify her ability to identify them.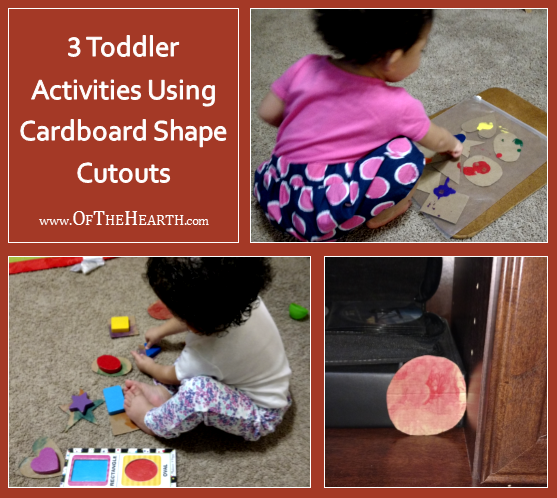 It turns out that cutting these shapes out of cardboard was a stroke of genius! I've been able to use them to create three different activities. She's loved the activities and the cardboard didn't cost us anything, so these activities are essentially free!
Activity 1: Painting
I drew eight shapes (circle, square, heart, oval, triangle, star, diamond, and rectangle) onto a cardboard box that we were going to recycle and cut them out with sturdy scissors. I then placed them in a large zipper baggie and added some squirts of finger paint. I gave this to my daughter so she could "finger paint" by squishing the paint around. Unlike traditional finger painting, this approach requires very little cleanup!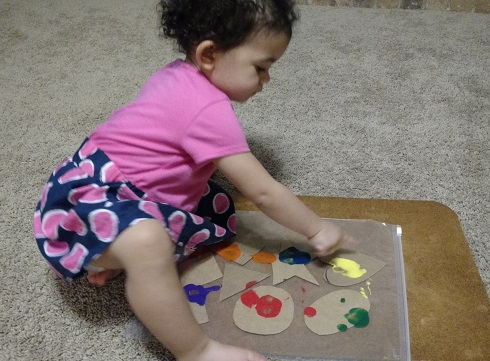 As she painted, we talked about what colors she was using and which shapes she was painting.
Activity 2: Shape Matching
My toddler has a chunky shape puzzle that we bought her when she first started learning the shapes. She'll still play with it on occasion, but it's super easy for her to assemble now that she's had it a while. I gave this puzzle a second wind by using it with the cardboard shape cutouts!

I placed the cutouts on the floor and showed my toddler how each one corresponded to a shape in the puzzle. I then asked her to match the corresponding shapes. I placed the wooden circle puzzle piece onto the cardboard circle as an example and she took it from there.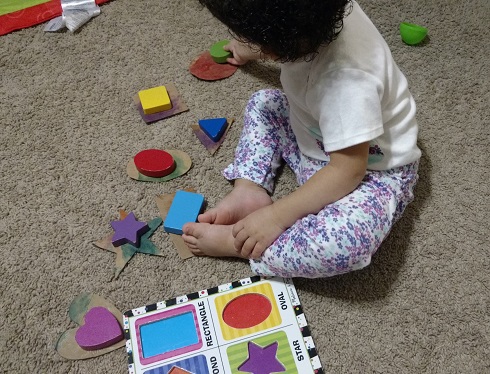 Weeks after doing this for the first time, she'll pull out the shape cutouts and shape puzzle to set up this activity for herself!
Activity 3: Hide-and-Seek
When my toddler is out of the room or distracted by some activity, I'll sometimes "hide" the shape cutouts around the room. I'll then ask her to find them. She has so much fun running around the room as she peeks under tables, looks behind couches, and examines every surface within her reach until she has found them all.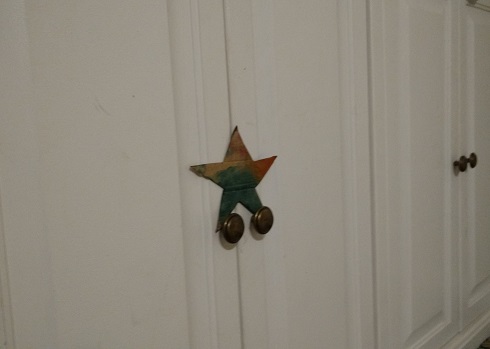 One thing I love about this activity is that it is active—it allows her to bend, reach, lift, etc. It also helps her learn directions because we talk about looking "under" the table, "behind" the sofa, "next to" the stack of books, and so on.
Additional activities?
I didn't expect to get so much use out of the cardboard shape cutouts, but I'm so glad we did. Can you think of additional ways to use the cutouts? Please share your ideas with us!
This post contains an affiliate link. Click here to read about what this means.
Shared at the following:
Coffee and Conversation, Making Your Home Sing, Living Proverbs 31, Share the Wealth, and The Art of Home-Making.
Save
Save
Save
Save
Save
Save
Save
Save
Save