The longer I'm married, the more I realize how much my words impact my husband. Even though "words of affirmation" isn't one of his love languages, he still benefits from encouragements. Even the most simple of these can set a positive tone for his day and make him feel like a hero!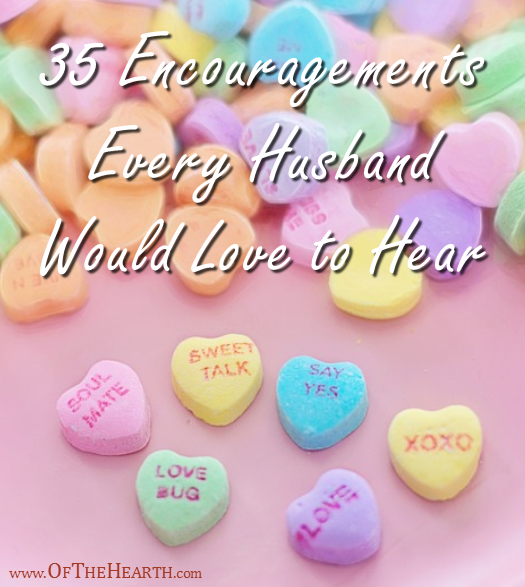 I want to make him feel this way more often, so I've been intentional about speaking encouraging words to him each day. Would your husband benefit from hearing more encouragements from you, too? I'm confident that these statements I've been using will encourage most husbands.
Words of affirmation to encourage your husband
If I had it to do over again, I'd still choose you to be my husband.
I love spending time with you.
Thanks for doing _________. It means a lot to me.
You make that shirt (or pants, jacket, etc.) look great.
I'm proud of you.
I respect you.
I pray for you every day.
I'm a better woman because of the way you _________ (support me, encourage me, love me, etc.).
Thanks for working so hard.
I love how our strengths make us better as a couple than we are as individuals.
I value your opinions.
You are a man of _________ (integrity, truth, wisdom, etc.). I love this about you!
We don't always agree, but I want you to know that I still respect you and I'm committed to continue working to make our marriage great.
I'm always in your corner.
You are such a great husband.
I'd love to put the kids to bed early so we can spend some extra time together tonight. Interested?
You are my favorite friend.
I feel so secure when you hold me.
You were right.
I made your favorite ________ (dessert, meal, etc.) because I was thinking of you today.
I've really enjoyed watching you grow into the man you've become since we got married.
I've taken care of everything. Go ahead and ____________ (sleep in tomorrow, take it easy, go out with the guys, etc.).
I'm amazed at how well you _________ (teach, encourage, lead, etc.). You're so gifted in that area.
I forgive you and I won't bring this up again.
You have so much to offer.
It's a joy to wake beside you each morning.
I'll always be loyal to you.
Thanks for all your help around the house.
You grow more handsome with each passing day.
It feels great to hold your hand.
I miss you when we're not together.
Our kids are blessed to have you as their dad. I love how you _________ (play with, teach, encourage, read to, etc.) them.
I trust you.
You're a great lover.
I love you.
A key thing to remember when speaking words like these to anyone is that they are not truly encouraging unless they are sincere. My husband knows if I'm paying him a genuine compliment or just giving him lip service. Your husband can probably tell the difference, as well. Thankfully, you don't have to use these specific words of affirmation. Pick and choose those that apply to your relationship and/or come up with some of your own!
What statements encourage your husband the most? Do you see a difference when you make the effort to offer sincere encouragements to him?
Shared at the following:
Monday's Musings, You're the Star, Tuesday Talk, and The Art of Home-Making.
Save
Save
Save
Save
Save
Save
Save