I'm not sure if I really love bagels or if I just enjoy them because they are a convenient way to get cream cheese to my mouth. It may very well be the latter because I really enjoy cream cheese!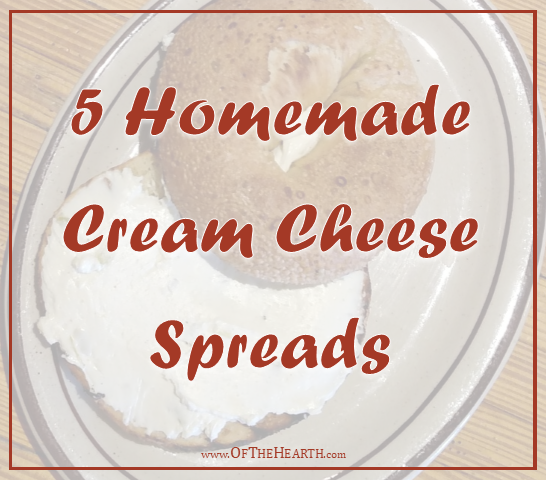 I noticed while shopping some time ago that flavored cream cheese spreads cost a lot more than regular cream cheese. I began adding various ingredients I had at home to regular cream cheese and I found that homemade varieties of these spreads are affordable and quite tasty! Here are 5 varieties I've enjoyed.
Ingredients
Mixed Berry
1 (8 oz.) package cream cheese, softened
2/3 cup chopped berries (strawberries, blueberries, raspberries, etc.)
2 tablespoons confectioners' sugar
Honey Nut
1 (8 oz.) package cream cheese, softened
3 tablespoons finely chopped nuts (I prefer almonds or pecans)
2 tablespoons honey
1 tablespoon brown sugar
Dash of cinnamon
Very Veggie
1 (8 oz.) package cream cheese, softened
2 tablespoons finely chopped carrot
1 ½ tablespoons finely chopped celery
1 ½ tablespoons finely chopped bell pepper
1 tablespoon finely chopped red onion
1 teaspoon minced garlic
Dash of salt and pepper
Garlic and Herb
1 (8 oz.) package cream cheese, softened
2 tablespoons grated parmesan cheese
1 ½ teaspoons minced garlic
1 teaspoon dried oregano
1 teaspoon dried parsley
½ teaspoon dried thyme
½ teaspoon dried basil
A couple dashes of salt
Pumpkin Spice
1 (8 oz.) package cream cheese, softened
½ cup pureed pumpkin
1 tablespoon honey
1 teaspoon vanilla extract
A couple dashes of cinnamon
A pinch of nutmeg
Instructions
The instructions are the same for each of these flavors:
Combine the ingredients. Use a food processor or mixer with a whisk attachment to mix until well blended. Use immediately or refrigerate until needed.
Notes
These homemade cream cheese spreads don't have any preservatives added to ward off spoilage, so they can't be kept on hand for too long. Always keep them refrigerated and use within one week of making them. This shouldn't be a problem given they are so yummy!
All of these go well on bagels, but there are dozens of other ways to use them. Spread them on crackers, use them as dips for fruits or veggies, use on sandwiches in place of dressings, etc.
Do you make homemade cream cheese spreads? Which is your favorite?
Shared at the following:
What's for Dinner? and Tips and Tutorials Link Party.
Save
Save
Save
Save
Save
Save
Save