When I think about serving my community, I often conceptualize it as another activity that I need to add to my already busy schedule.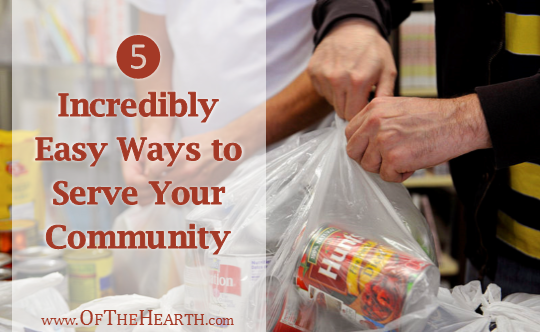 Thankfully, there are actually many easy ways that we can serve our communities. Consider these five approaches that are practically effortless.
5 easy ways to serve our communities
Pick up litter.

It's not uncommon to see pieces of litter when we walk through our neighborhoods or through various locations in our cities. When we see litter, we should clean it up. This only takes a little bit of time and effort to do, but it makes a huge difference in the look and feel of our communities.

Participate in food drives.

Grocery stores and workplaces often sponsor food drives around Thanksgiving and Christmas to support local food banks. Most of us—even those of us on tight budgets—can afford to donate a few nonperishable food items to these drives. We can simply grab a few extra items while grocery shopping and place these in the collection bins at the store or at the office.

Donate gently used clothes and household items to those in need.

Many of us have more clothes and household items than we truly need. When we declutter, we can easily give unneeded items to neighbors who need them. We can do this by giving items directly to individuals who are in need or by donating them to thrift stores that support charities.

Tithe and give at church.

Most churches have programs that serve the community (food pantries, afterschool tutoring for students, nursing home ministries, etc.). By giving tithes and offerings to these churches, we support the service programs.

Perform random acts of kindness.

We don't always have to plan ahead and our actions don't have to be part of an organized effort in order to serve our communities. If we keep our eyes open, we will see little things we can do every day to serve those around us. We can shovel snow from a neighbors' sidewalk. We can take a hot meal to a homeless individual. We can take a bag of groceries to a friend who is struggling financially. We can offer free babysitting to a single mom. The possibilities are endless!
What additional ideas do you have? What are some easy ways you serve your community?
Shared on the following link-ups:
Coffee and Conversation, Motivation Monday, Making Your Home Sing and Shine Blog Hop.