A few days ago I began playing some music after my daughter got up from nap. When I did this, it really struck me that playing music has an impact on the aura or feeling in my home.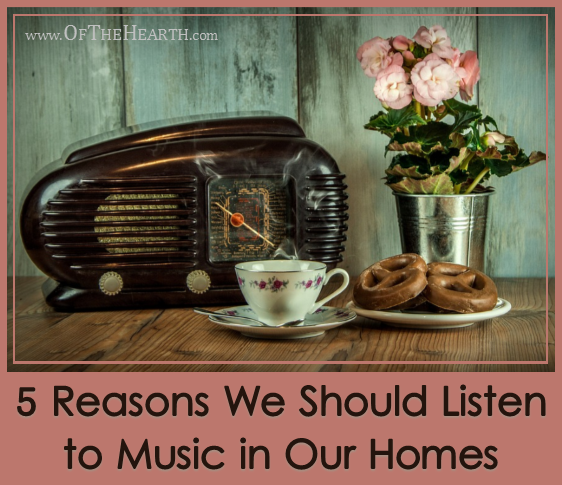 In general, my home seems like a more pleasant, peaceful, and joy-filled place when we're listening to music. I read up on the topic and learned that music can have a very positive impact in our homes!
Why listen to music around the house
Music can reduce our stress levels.

Many of us feel that listening to music can help us feel less stressed. It turns out that we're not imagining this benefit! Researchers have found that listening to music can trigger measurable biochemical stress-reducing effects in some individuals (source). In fact, the effect of music on stress is similar to the effect of getting a massage (source). This means that simply listening to music can help us feel calm and cope with the chaos that sometimes occurs in our homes.

Music can improve our moods.

Whenever one family member is in a poor mood, it tends to rub off on other family members. Fortunately, we can use music to improve our moods (source). We can play calming music when a family member is anxious. We can play uplifting music when a family member feels down. We can play lively music when a family member lacks enthusiasm or feels discouraged.

Music can help us move quickly when we complete our chores.

We've discussed previously that many housekeeping activities constitute moderate-intensity physical activity. If you don't believe me, check out this chart of 25 homemaking activities that burn 100 calories! Researchers have learned that people exercise harder when listening to fast music (source) and that music can boost physical performance and increase endurance (source). If music provides these benefits during intense physical activity, then it likely provides similar benefits during the moderately intense activities that we complete around the house (mopping, vacuuming, scrubbing bathtubs, etc.).

Music can help our kids make sense of time.

Young children may not understand the concept of minutes and hours, but they can understand that it is time for certain activities when these activities are tied to songs. For example, many parents sing or play recordings of songs to help their children clean up their toys (e.g., "Clean Up Song" from Barney, "Whistle While You Work" from Snow White). In my household, we help my toddler understand that it is time to wind down for sleep by singing her a particular hymn as we ready her for bed each night. Parents can also play songs to help their children brush their teeth or wash their hands for appropriate lengths of time and to help them transition between activities.

Music can set our minds on things above.

Perhaps even more important than any of the aforementioned benefits is the reality that music with lyrics about the Lord can help us set our "minds on things above, not on earthly things" (Colossians 3:2). When our minds are focused here, we are able to rid ourselves of ungodly things (anger, deceit, profanity, etc.) and clothe ourselves with compassion, kindness, humility, gentleness and patience (Colossians 3:8-9, 12).
While discussing all of these benefits, I've said very little about the types of music to which we should listen. As I just noted, there are benefits to listening to songs that point us to God. Thus, in my household, we almost always listen to Christian music (contemporary Christian songs, praise and worship, traditional hymns, etc.). On occasion my husband will play instrumental music or iconic songs from past eras.
While I don't think we have to strictly limit ourselves to Christian music, I encourage you to carefully apply the words of Philippians 4:8 to your selections:
"Finally, brothers and sisters, whatever is true, whatever is noble, whatever is right, whatever is pure, whatever is lovely, whatever is admirable—if anything is excellent or praiseworthy—think about such things."
If songs don't meet the Philippians 4:8 criteria, then I don't want them filling my home!
Do you listen to music in your home? Why or why not? If you do, then what impact does the music have on your household?
Shared at the following link parties:
Making Your Home Sing, Titus 2 Tuesday, Tuesday Talk, and Monday's Musings.