I occasionally find myself putting off some task that I really need to accomplish. Often the task relates to housecleaning, though sometimes it relates to budgeting, yard work, or home maintenance. I'm a little embarrassed to say that sometimes days, weeks, or even months will pass before I finally buckle down and complete it. Does this ever happen to you?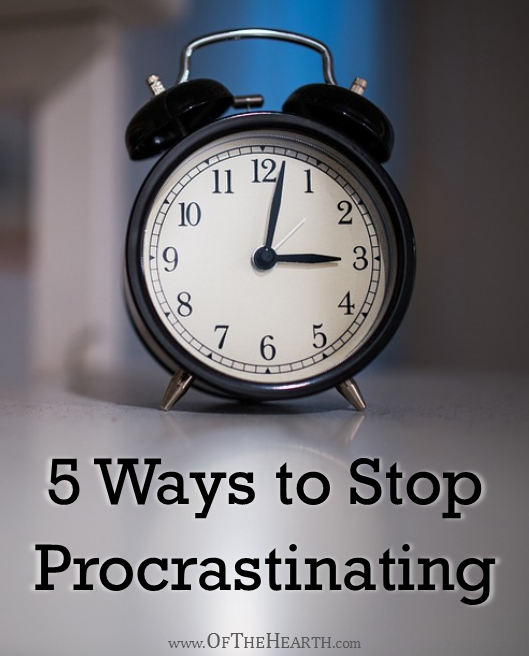 What I've just described is the common phenomenon of procrastination—when we put off or delay doing something because we don't want to do it. Procrastination hampers our productivity, increases our stress, and often signals to us that we are struggling with laziness. Thankfully, a number of easy strategies can help us stop procrastinating.
Tips for overcoming procrastination
Call it what it is.

Rather than face the reality that we are putting off important work, we often come up with a lot of excuses as to why we're avoiding it. I'm too busy. I'm too stressed out. I've done enough work today already. It's my husband's turn. I'm not creative enough. I'm too inexperienced. Acknowledging that we're procrastinating instead of justifying our inaction helps us put these excuses in their place so we can begin to work hard to complete the important tasks before us.

Break each task into small pieces and assign a deadline to each piece.

It's easy to keep pushing the small pieces of a large task back when the deadline for the task is far away. On the other hand, we feel a sense of urgency and make progress when we're faced with periodic deadlines for the small pieces that comprise a larger task.

Eliminate physical and mental clutter.

Whether it is having too many tabs open in our internet browsers or having papers strewn across our desks, clutter beckons us to take our eyes off of the important tasks we need to accomplish. If we take a little bit of time to eliminate clutter, then we're often able to focus more easily and be more productive.

Learn to use to-do lists effectively.

To-do lists can help us gain a comprehensive understanding of all we need to complete. Unfortunately, simply making these lists doesn't mean we'll get anything accomplished. In order to get the most out of to-do lists, we must learn to make them quickly, prioritize their contents, and focus on completing one task at a time. Click here to read additional tips on using to-do lists effectively.

Get accountability.

Sometimes we just need the support, encouragement, and accountability that another person can provide. We can share about the areas in which we've been procrastinating and ask a trusted friend or family member to ask us about our progress in overcoming this procrastination. Knowing that we'll have to give a report on our progress is a powerful motivator!
These are all useful strategies, but perhaps the single most important thing we can do is to keep in mind that we're not just completing tasks for ourselves, our families, or an employer. We're completing them for the Lord.
"Whatever you do, work at it with all your heart, as working for the Lord, not for man." Colossians 3:23
When we work at our tasks with all of our hearts, there's no room for procrastination!
In recent weeks, I've benefited most from this last strategy and from assigning deadlines to the small pieces of larger tasks. Do you ever struggle with procrastination? What things do you do to overcome it?
Shared at the following:
Grace and Truth, The Art of Homemaking, and Making Your Home Sing.
Save
Save
Save
Save