In my household, we don't generally spend a ton of money on Christmas gifts. We still enjoy giving gifts to one another, though, so stocking suffers are perfect for us!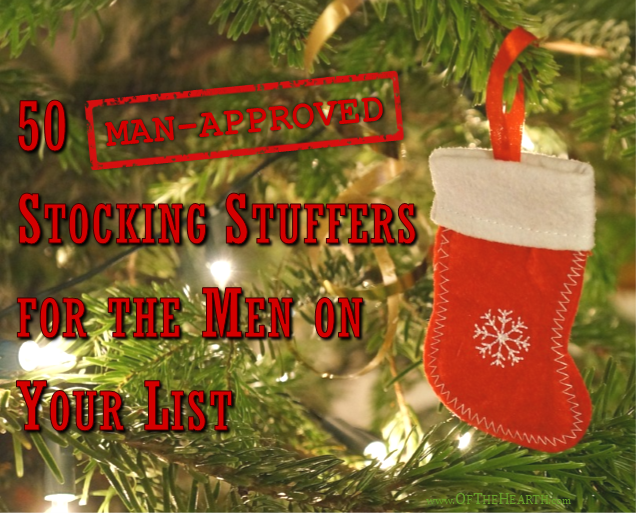 As I go about everyday life, I often come across things that I think would make great stocking stuffers for my husband. I took note of these throughout this past year. In the interest of giving gifts that men actually like, I asked my husband to look over the list. He has given the following items a green light!
Stocking stuffers men love
Pocket knife or multitool

Knife sharpening kit
Pocket reference guide
Measuring tape
USB flash drive
Bluetooth headphones
Cell phone accessories
Small weather station
Fitness tracker
Compact first aid kit
Small tactical flashlight
Ammo
Work gloves
Hand warmers
Tire pressure gauge
Vent clip essential oil diffuser and essential oils

Tickets to a movie, game, or other event
Pens
Notepads
Eyeglass repair kit
Small bottles of hand lotion
Stainless steel comb
Razor blades
Small bottle of cologne or aftershave
Hat, scarf, or gloves
Watch
Wallet or money clip
Belt
Bandanas
Slippers
Socks or underwear
Compact umbrella
Travel packs of tissues
Rubik's Cube or other brain teaser
Gift card for a coffee house, fast food restaurant, or similar place
Small bottle of hot sauce, BBQ sauce, or other condiment
BBQ rub
Beef jerky
Favorite candy bar or gum
Insulated travel cup
Reusable snack bags
Many of these items are everyday things that we'd buy even if it wasn't Christmas (e.g., socks, travel packs of tissues, USB flash drives). Because it is Christmas, though, it's fun to use them as stocking stuffers so the recipient has lots of packages to open.
What would you add? What items do you give as stocking stuffers to the men on your Christmas list?
Shared at the following: