I'm always excited to get some things done and to have a little "me time" when I put my daughter down for nap in the afternoon. Unfortunately, on many days I don't get anything accomplished during her nap because I find myself feeling tired and having trouble focusing.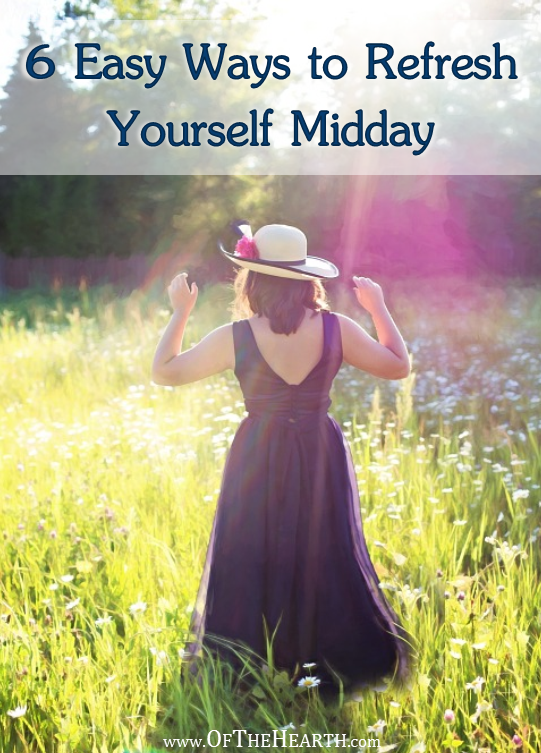 Thankfully, there are a number of easy things we can do to rejuvenate and refresh ourselves midday.
Easy ways to overcome the midday slump
Get some exercise.

We all know that exercise is good for our physical bodies, but it's also great for our minds! It improves concentration, reduces stress, and heightens alertness. A few minutes of exercise (a walk around the block, stretching, a few sit-ups, etc.) gets oxygen-rich blood pumping throughout our bodies, giving us the energy we need to rise out of a slump.

Eat a protein-rich snack and drink a tall glass of water.

Eating protein-rich snacks (meats, low-fat cheeses, nuts, etc.) helps us feel more alert by counteracting the drowsiness that can be brought on by the spikes and drops in blood glucose caused by refined carbohydrates. Additionally, dehydration can cause feelings of fatigue, so it's critical that we drink enough water to remain properly hydrated.

Listen to some upbeat music.

Simply listening to upbeat music can lift our spirits and help us feel livelier. Personally, I enjoy listening to upbeat praise and worship music, but any upbeat music will get the job done. If you want to "kill two birds with one stone," then dance to the music. This will get you exercise as you listen!

Get some sunshine.

Sunshine can make such a difference in our dispositions! Just as it dispels literal clouds from the sky, it can dispel feelings of fatigue, frustration, stress, and discouragement from our minds. We should get outside to be in the sunshine, if possible. If this isn't possible, then it's a good idea to at least open the blinds and curtains so the sun can shine in the windows.

Laugh out loud.

Laughter is incredibly good for us. It reduces stress hormones, increases our creativity, and improves our moods. We benefit from spending a few minutes reading jokes, watching comedies, browsing comic strips, or any other number of activities that will cause us to laugh.

Take a nap.

Sometimes a midday slump is caused by genuine fatigue. Perhaps, like me, you are tired because you are pregnant and chasing after a toddler. On the other hand, you may be tired because you have had lots of company visiting or because you've been working a lot of overtime. Regardless of the reason, brief naps (about 20 minutes is all it takes!) can reenergize us and give us the focus we need to finish the day productively.
I've tried all of these strategies in recent days and they're all helpful! My personal favorites are taking naps and getting some sunshine.
Do you ever experience a midday slump? How do you overcome it?
Shared at the following link party:
Think Tank Thursday, Friday Frivolity, Small Victories Sunday, Making Your Home Sing, Living Proverbs 31, and Shine Blog Hop.