We finally have a yard large enough to accommodate several raised garden beds. With the clumsy help of my toddler, I recently moved my plants from their starter pots into two large beds.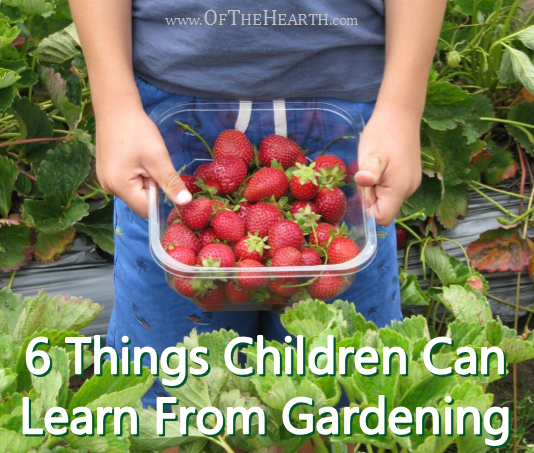 I'm thrilled to be introducing my daughter to gardening because there are so many lessons—truly crucial lessons—that our children can learn from it.
What children learn from gardening
Patience.

Children in our modern culture know a lot about instant gratification, but they know very little about waiting, anticipating, and laboring. Though they can heat meals in seconds in microwaves and conduct research in seconds via the internet, they can't grow tomatoes, peppers, or flowers in seconds. When children participate in gardening, they learn to wait and work in order to receive gratification.

Responsibility.

Gardening takes faithful work. Plants must be watered. Weeds must be pulled. Produce must be picked. When given these responsibilities, children learn that they must complete them faithfully or else the plants will turn brown or be overtaken by weeds and they will not yield flowers or food.

Where food originates.

Many children today think that food comes from the grocery store. They legitimately believe that milk, chicken, carrots, etc. are somehow manufactured at the store! When children help with vegetable gardens, they gain an accurate understanding of where produce truly originates. As a bonus, this may help them be more interested in tasting new veggies!

Math skills.

There is a lot of math involved in gardening. How many seeds need to go in each hole? How many inches apart do the holes need to be? How many hours of sunlight does each plant require? With a little creativity, we can create additional opportunities to use math. How tall is each plant? How many carrots did we pick? How much does the tomato weigh? Learning about math in this way is so much more fun than reading a textbook or completing a workbook.

Biologic principles.

Children learn about biology when they garden. They observe the lifecycle of plants, witness the impact of sun and rain on plant growth, and gain an understanding of the larger ecosystem (e.g., bees pollinating plants, worms living in the soil where they break down organic matter). We can augment the lessons they learn by observation by reading books and watching videos on these topics.

Biblical principles.

Believe it or not, there are a number of important spiritual lessons that can be learned when gardening. Gardening analogies are used throughout the Bible, so we can highlight these for our children as we work. As we sow seeds, we can remind our kids that we reap what we sow (Galatians 6:7). As we pull weeds, we can discuss how it is important that God's work in us is not stifled by the "worries of this life and the deceitfulness of wealth" (Matthew 13:22). As we reap a harvest, we can share about God's heart for the poor—how He commanded the Israelites not to strip their fields bare so the poor could glean for food (Leviticus 19:9-10). We can go a step further and actually share our bounty with those in need! Even flower gardening provides these opportunities. We can discuss things such as how the flowers of the field remind us that we do not need to worry about tomorrow (Matthew 6:28-34).
Though these are not lessons, it would be remiss of me not to mention that gardening provides several additional benefits for our children:
Opportunities for fun, meaningful parent-child interactions
Sensory stimulation
Gross motor activity and exercise
Exposure to fresh air and sunshine
The opportunity to consume fresh produce
Do you garden with your kids? What lessons have they learned from the experience?
Shared at the following link parties:
Coffee and Conversation, Think Tank Thursday, Shine Blog Hop, Making Your Home Sing, Tuesdays with a Twist, and Healthy Living.
Save