You don't have to spend too much time with me (or reading this blog) to realize that I love making lists and planning. Naturally, this extends to meal planning.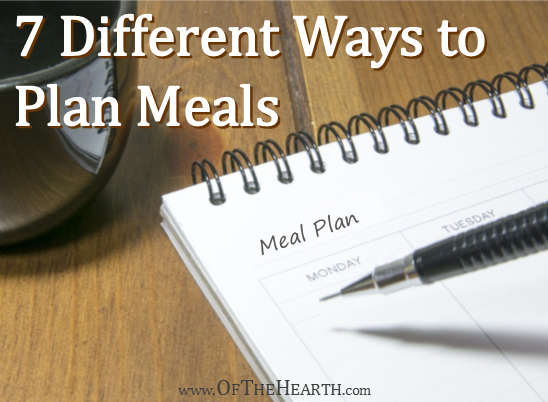 In recent weeks, I've been questioning if my menu planning approach is still the best for my family. Is there a more efficient way? Is there a way I can focus more on keeping costs down? How can I make sure our meals are affordable, convenient to prepare, and varied?
As I'm trying to answer these questions, I've been exploring various approaches to meal planning. Here are seven popular meal planning approaches.
Menu planning approaches
Shop, then plan.

For this approach, you grocery shop first. You stock up on staples and your favorite foods. If you're on a tight budget, you can focus on purchasing items that are on sale. Once you have your fridge and pantry filled with groceries, you make a meal plan that incorporates the foods you just purchased.

Weekly, biweekly, or monthly planning.

This is probably the most popular meal planning approach. You sit down with a calendar and decide which meals you're going to eat over the next week, two weeks, or month, documenting these on the calendar. You then make a grocery list that contains the ingredients needed for these meals. This planning process may include perusing recipes in order to come up with new ideas or searching grocery store ads to see what's on sale.

Thematic planning.

Many families find it useful to plan their meals around themed nights. They will assign a theme to each night of the week and this guides their grocery shopping and cooking. The precise dishes made each week may vary, but they fall under the assigned themes. Here's an example:

Monday – Meatless meal
Tuesday – Mexican food
Wednesday – Slow cooker meal
Thursday- Soup or stew
Friday – Homemade pizza
Saturday – Breakfast for dinner
Sunday – Leftovers

Seasonal planning.

This is the approach we've been using for nearly five years. (Wow, I didn't realize it had been that long until I wrote that!) With this approach, you create a menu each season (spring, summer, fall, and winter) that contains four weeks' worth of dinners. You use each menu for the three months of its respective season and then move on to the next season's menu (you can read more details about this approach here). It takes a bit of work to develop the menus and accompanying grocery lists, but once you have them, you're set for three months.

Subscription meal planning services.

There are a number of subscription services (e.g., eMeals, Plan to Eat, $5 Meal Plans, The Scramble) that will help you plan meals and shopping lists. These vary in price and in how the planning actually occurs, so you'd need to examine each closely if a service like this interests you.

Once a month cooking.

With this approach, you prepare a month's worth of dinners (typically casseroles or slow cooker "dump dinners") in one day. Once prepared, these go into the freezer and you use them throughout the month.

Protein plus veggie cooking.

Because of its simplicity, this approach may be the easiest to use. Each night you prepare a protein and a veggie (or two veggies or a veggie and a starch, if desired). It doesn't really take all that much planning at all. You simple buy a variety of proteins (beef, chicken, fish, eggs, beans, etc.) and vegetables (carrots, green beans, peas, spinach, peppers, etc.) at the store. Each day you then select a protein and a vegetable (or vegetables) and prepare them.
These approaches are pretty diverse, so I have a lot to consider. Are you familiar with additional approaches to meal planning? If so, please share these with us!
Shared at the following:
Coffee and Conversation, Think Tank Thursday, Over the Moon, The Art of Homemaking, and Home Garden Linky.
Save
Save
Save
Save
Save
Save
Save
Save
Save