Autumn is finally upon us and I'm thinking that it would be nice to have a list of get together ideas akin to the one I made for summer.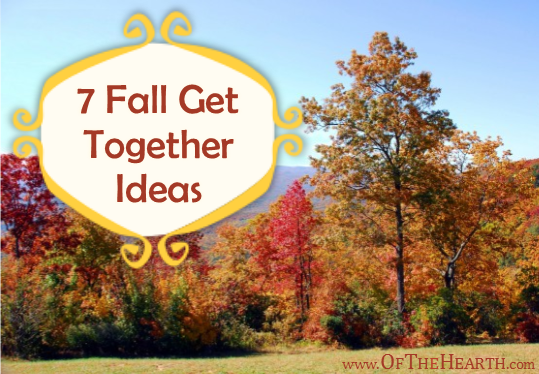 If you'll be spending time with friends this fall, then you may be able to make use of some of these ideas.
Fall get together ideas
Go on a hayride.

Gather your friends, pile some hay in a trailer pulled by a tractor or truck, and enjoy a ride through the cool autumn air! Don't forget to bring along blankets to keep you warm and refreshments (hot cocoa or apple cider in thermoses, candy corn, trail mix, popcorn, etc.) to quench your hunger and thirst. For added fun, bring along a guitar (and someone who can play it, of course) and have a sing-along as you ride.

Host a soup social.

Soup is the perfect complement for fall, so why not socialize with friends while enjoying some warm, hearty soup? You can prepare a few varieties, purchase soups from a local restaurant, or have a potluck where each of your guests brings his or her favorite soup to share. Complete the spread with some cheese, crackers, and breads.

Play flag football.

If you have a large yard or live near a park, then consider having your friends over for a flag football game. Kids and adults alike will enjoy this! Share appetizers and traditional tailgate snacks after the game. If it's a day when your local college or professional football team is playing, then you can watch the game on TV while you eat.

Have a bonfire.

Grab hot dogs or the ingredients for s'mores and gather your friends around a bonfire. While eating, you can visit, tell stories, and play flashlight hide and seek. It's okay if you don't have access to a location suitable for a bonfire, because you can have just as much fun by gathering around a fire pit in your yard.

Visit a corn maze.

Find the nearest corn maze and meet there with your friends for an afternoon or evening of fun. You can divide into teams and have a contest to see which team makes it through first or you can meander through the maze together, allowing everyone to chat. After you are done, extend the fun with a visit to a coffee shop or restaurant for warm drinks and dessert.

Go on a fall foliage hike.

A fall foliage hike is one way to get outdoors and enjoy the beauty of the changing leaves. Find a local park or wilderness area that has suitable trails or paths and have your friends meet you there for a hike. You'll have plenty of time to visit as you walk the trails and take in the lovely foliage. Consider packing some food so you can have a picnic while on your hike.

Host a caramel apple making party.

Caramel apples are a classic fall treat. You can indulge in these while visiting with your friends by having a caramel apple making party. Set a table with apples (firm varieties like Granny Smith and Fuji tend to work best), caramel sauce, and various toppings (sprinkles, chocolate chips, chopped nuts, mini marshmallows, etc.). Everyone in attendance can make and enjoy a customized caramel apple!
What get together ideas can you add? What are your favorite things to do with friends during the fall?
Shared on the following link-ups:
Motivation Monday, Making Your Home Sing, WholeHearted Wednesday, Tuesday Talk and Monday's Musings.