It often seems that two unproductive days follow every productive day I have. This is partially due to having an infant (interruptions are sometimes the only thing that happens consistently). However, I've noticed that there are also some other factors that regularly impact my productivity.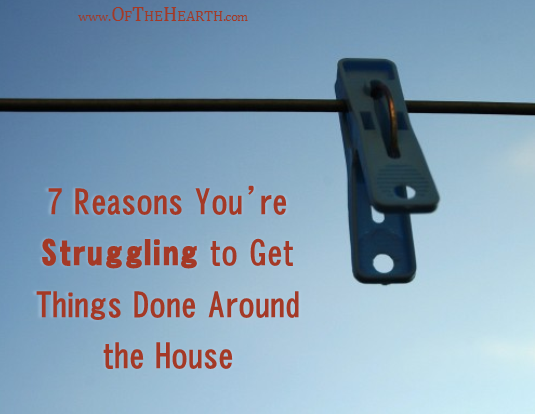 These factors may seem innocuous, but they surreptitiously consume time and distract me from important tasks that I need to complete. Do any of these detract from your productivity?
7 factors that decrease productivity
1. Disorganization and clutter
When a home lacks order, even the most simple of tasks can take an inordinate amount of time to complete. For example, placing a postage stamp on an envelope shouldn't take much time at all. However, if my postage stamps are out of place, then it can take me 15 minutes to complete this task that should take only 15 seconds. Getting rid of clutter and getting organized takes some time and critical thinking initially, but it greatly increases productivity in the long run.
2. Social media, email, and web surfing
Sometimes I absolutely lose track of time when I'm on Pinterest. It's like I enter some sort of twilight zone. When I get distracted in this way, I'm not accomplishing the things on my to-do list. The solution to this problem is easy: Get off the internet! I find it particularly helpful to set a time limit (such as 5 or 10 minutes) and to then log off once that time has passed. Don't worry—I won't be offended if you log off the internet now to go get something done!
3. TV or movies
Watching TV and movies can be a time stealer just like the web-based activities mentioned above. I sometimes deceive myself into thinking that I can get things done while the news or a movie is on in the "background." The reality is that I'm just not as productive when my mind is divided between two (or more) activities. As with the web-based activities, this barrier to productivity can easily be eliminated with an off switch.
4. Laziness
There are times when I just want to take it easy. I don't want to log off the internet or turn off the TV because those activities are fun. Cleaning isn't that fun. Laundry isn't that fun. Even grocery shopping (which I enjoy) often takes a lot of effort. Laziness, or being unwilling to work or expend energy, not only stifles productivity but it is sinful (Proverbs 6:6 and 18:9, Colossians 3:23, and 2 Thessalonians 3:10). It's challenging, but not impossible, to overcome it. Find tips on battling laziness here.
5. Too much planning
At first glance, planning seems like a good thing. It can be, but at other times it's a stall tactic. I've shared before about how I could sometimes complete a task or two in the amount of time it takes me to write a to-do list. Likewise, I can spend a long time reading dozens of recipes for a particular dish so I find the best one. Will the recipe I finally choose be so perfect that it was worth taking the time to read through so many recipes? If planning expedites our work, then we should do it. If it detracts from our work, then we should dive in and get something done instead.
6. Inefficient routines
I thrive on routines and, in general, they boost my productivity. However, on occasion I find myself engaging in routines that hurt my ability to get things done. For example, I tried a number of housecleaning schedules that had certain tasks assigned to specific days of the week. I'd frequently find myself getting off schedule because things would come up that prevented me from cleaning. It then seemed impossible to get caught up and back on schedule. I finally realized that these routines were not efficient for me, so I made one of my own—a rotating cleaning schedule—that is efficient for me. I've had similar experiences with menu planning and laundry. I had to try different approaches until I found the one that was effective for me. Of course, what works for me will not necessarily work for you, so we each have to evaluate our routines and figure out what is best.
7. Kids
Unlike the factors mentioned above, children are not a problem or barrier to be overcome. However, like the factors mentioned above, they certainly can diminish how much you get done around the house! When it comes to nonessential tasks, sometimes the best thing to do is embrace these wise words from Ruth Hulburt Hamilton's Song for a Fifth Child:
"Oh, cleaning and scrubbing will wait till tomorrow,
But children grow up, as I've learned to my sorrow.
So quiet down, cobwebs. Dust, go to sleep.
I'm rocking my baby. Babies don't keep."
There are, of course, some tasks that really do need to be completed. I have found it is helpful to take advantage of nap times and to sometimes wear my baby in a wrap or carrier in order to take care of these tasks. If you have older children in the house, make sure they are helping out by completing age-appropriate chores (e.g., making their beds, sorting laundry, loading the dishwasher, taking out the trash).
If these same factors impact your productivity, then how do you overcome them in order to get things done? If these factors aren't issues for you, then what factors do diminish your productivity?
Shared on the following link-ups:
WholeHearted Wednesday, Coffee and Conversation, Titus 2sday, Titus 2 Tuesday, Monday's Musings & The Art of Home-Making.