Since moving into our current house, my husband and I have been intentional about getting to know our neighbors. We feel that our efforts have plateaued recently. We've learned the names of all of the folks who live in the houses around us and we know a little about them, but where do we go from here?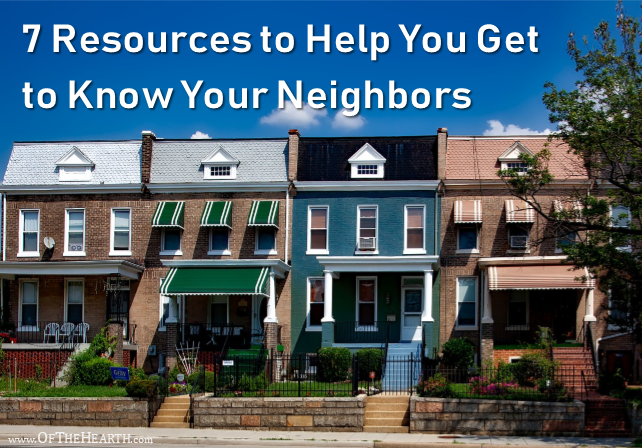 One of my goals for this year is to reinvigorate our efforts. I want for us to really get to know our neighbors and learn how we can serve them. As I've considered how to go about this, I've been referring to the following resources.
Resources on getting to know your neighbors
The Art of Neighboring by Jay Pathak and Dave Runyon
I felt inspired and challenged after reading this book last year. The authors review the Biblical command to love our neighbors and explain why we need to apply this to our literal neighbors, not just our communities and the world at large. They provide tons of practical advice on how to get to know our neighbors and how to deal with the sticky situations that sometimes occur with neighbors (such as when a neighbor has a dog that won't stop barking).
Welcoming New Neighbors from Of The Hearth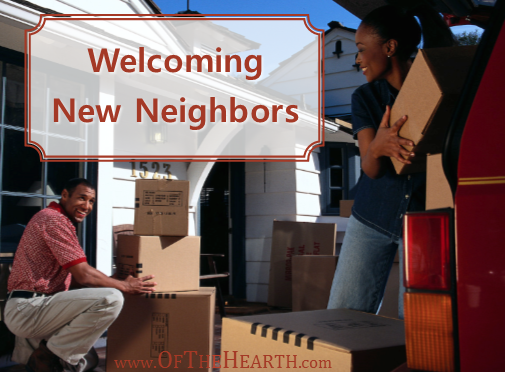 I wrote this post nearly four years ago when I was considering ways to welcome new neighbors to our block. In the post, I detail six simple housewarming gifts that we can share with individuals and families who move into our neighborhoods.
Getting To Know Your Neighbors: Worth The Effort from NPR
This is a transcript of an interview with Peter Lovenheim, an English professor and author of the book In the Neighborhood: The Search for Community on an American Street, One Sleepover at a Time. In the interview, he describes his experience of getting to know his neighbors and answers a variety of questions from listeners.
The Art of Good Neighboring from The MOPS Blog
Sometimes barriers, tangible or intangible, make it difficult to connect with our neighbors. The author of this post shares about her experience of getting to know some neighbors despite a language barrier. She provides several suggestions of ways we can engage our neighbors.
8 Everyday Ways to Be a Good Neighbor from Of The Hearth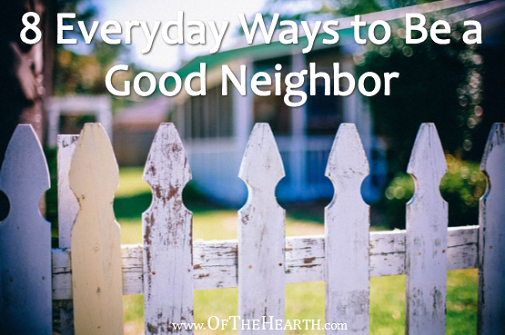 It's often easy to be a good neighbor! In this post, which I wrote two years ago, I detail eight everyday things we can do to foster good relationships with our neighbors.
10 Ways to Get to Know Your Neighbors (Without Seeming Creepy) from Austin Moms Blog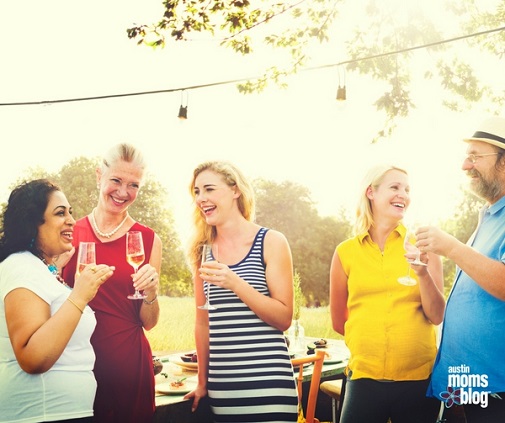 Getting to know our neighbors doesn't have to be awkward. The author of this post shares 10 straightforward ways that we can meet our neighbors.
Forming Positive Relationships with Difficult Neighbors from Of The Hearth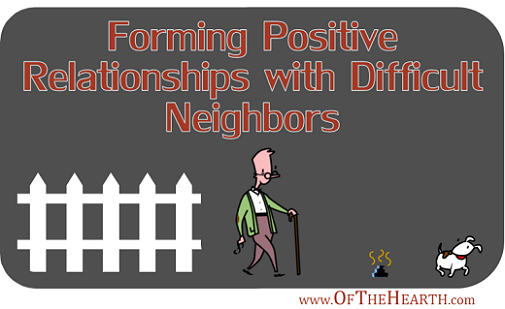 Sometimes it's hard to be kind to our neighbors because they are rude or disrespectful towards us. What should we do when this happens? Here are some thoughts I had five years ago when we had several difficult neighbors.
Final thoughts
I'm one of those individuals who has a tendency to overthink things. I've done this when I've considered our neighbors and made plans for getting to know them. At this point, I really need to stop thinking and start doing! The ideas and tips in these posts are a great place to start.
Do you know your neighbors? How did you get to know them? What approaches helped you go from meeting them to knowing them?
Shared at the following: