With Mother's Day just around the corner, many of us are thinking about the moms in our lives, especially our own mothers and our mothers-in-law.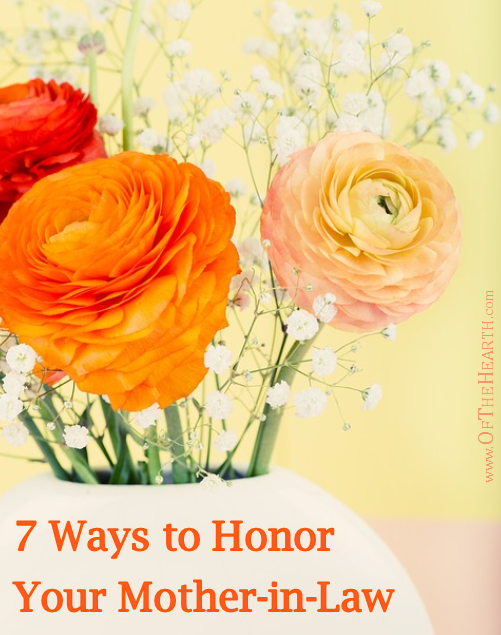 While many of us know our own mothers quite well and can think of numerous ways to honor them, sometimes it's more challenging to think of ways to honor our mothers-in-law. We definitely should honor these women, though. Here are seven ways we can do this.
How to honor your mother-in-law
Drop the "in-law" from her title or replace it with a more loving term.

The term "in-law" doesn't have a warm or friendly sound to it. I've heard some women use alternatives, such as "bonus mom" or "mother-in-love." While we may sometimes need to use the title "mother-in-law" for the sake of clarity, at other times we can use one of these warmer alternatives!

Humbly accept her counsel.

Throughout their lives, our mothers-in-law have amassed a wealth of wisdom and practical skills. Many of them would love to pass some of this along to us. Unfortunately, many of us recoil at the thought of receiving advice from our mothers-in-law. We shouldn't. We can learn so much from them! We should humbly and even eagerly listen to their counsel. If we feel that a particular piece of advice isn't sound, we don't have to follow it. However, by listening, we'll gain useful insight.

Be willing to provide for her needs sacrificially.

The most famous in-law relationship in history may be that of Ruth and Naomi from the Bible. We can learn a lot from their relationship, including the value of working to provide for the needs of one's mother-in-law (Ruth 2:2, 11-12). If your mother-in-law doesn't already have needs, it's likely she will develop some as she continues to age. She may need help getting things done around the house or making ends meet financially. She may need help getting to appointments and shopping or she may need to move in with you. We should follow Ruth's example and be willing to provide for these needs.

Brag about your spouse.

Long before the man I married became my husband, he was my mother-in-law's son. She did a wonderful job raising him (actually, she did a wonderful job raising him and his three siblings). I want her to know that I appreciate all she did to make him the hardworking and respectful man that he is. I think most mothers-in-law would be very encouraged to know that we think they did a good job and that we appreciate their efforts.

Don't tell mother-in-law jokes or complain about her.

There are a couple of reasons we should avoid complaining and telling jokes about our mothers-in-law. First, the Bible teaches us to avoid complaining (Philippians 2:14) and to honor our parents (Exodus 20:12). Second, there is quite a bit of psychological research that shows us that our thoughts and words are powerful. If we feel negatively and complain about our mothers-in-law or tell disrespectful jokes about them, then we will continue feeling negatively. However, if we think positive thoughts (even if we have to push ourselves to do this) and share stories about their positive qualities, we will begin feeling positively about them.

Allow her to share in celebrating your children.

It's easy to see how much my mother-in-law loves and delights in my children. I know it means a lot to her to see and spend time with them. The same is probably true in your family. Creating opportunities for mothers-in-law to enjoy their grandkids is relatively straightforward if you live close by one another. However, if you live far away (as we do) then you must be a little more creative. Great options include sending lots of pictures, sharing stories, video calling, and planning visits as often as possible.

Remember her on the 364 days of the year that aren't Mother's Day.

Most of us are good about sending a card or gift on Mother's Day, but what about the other days of the year? Do we communicate our love and gratitude on these days? I need to be better about this. Thankfully, it's really not that difficult. We can easily let our mothers-in-law know we care about them and are thinking about them by telling them we pray for them, calling and asking for recipes, sending cards or flowers, taking them to dinner, etc.
If I changed a few words here and there, these ideas would also be helpful for honoring mothers, fathers, and fathers-in-law. It's a good, overarching reminder to honor and bless our parents!
What things do you do to honor your mother-in-law? Share your ideas with us!
Shared at the following:
Monday's Musings, Literacy Musing Mondays, Tuesday Talk, From Messes to Messages, Happy Now Link-Up, Coffee and Conversation, Grace and Truth, and The Art of Home-Making.
Save
Save
Save
Save
Save
Save
Save
Save
Save
Save
Save