By the time evening rolls around, you can tell from my toddler's behavior if we were able to go outside and play that day or not.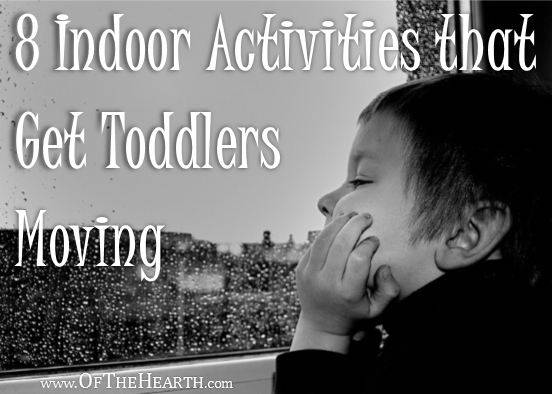 She's full of energy, quick to roughhouse, and sometimes irritable on days when the weather or a busy schedule keeps us indoors. On the other hand, she's generally calm and easygoing on days when we are able to play outside.
Unfortunately, inclement weather and busy days happen. What can we do to help our toddlers be physically active and expend their energy when we're stuck indoors? I've been using a bunch of indoor activities that get my toddler moving. Would your toddler benefit from these?
Physically active indoor activities for toddlers
Sing songs that have body motions.

Toddlers tend to love music, so it's easy to get them interested in singing songs that have associated body motions. These songs (and their motions) are often simple, so you don't have to be a musician or dancer to teach them to your kids. Two favorites in my house are the Itsy Bitsy Spider and If You're Happy and You Know It. There are tons more to choose from, though, including The Wheels on the Bus and Head, Shoulders, Knees, and Toes.

Pop bubble wrap.

What is it about bubble wrap? Children and adults alike are entertained by it! Hang on to any bubble wrap you receive in packages. When you need to get your toddler moving, pull it out and tape it to the floor. Walk, stomp, jump, and dance on it until all the bubbles are popped!

Play follow the leader.

Younger toddlers may not get the concept of this game yet, but older toddlers will be able to follow the leader in doing all sorts of physically active motions: Jumping in place, stomping their feet, waving their arms, etc.

Walk across a sticky runway.

Position a sheet of contact paper (4-6 ft. in length) on the floor with the sticky side up. Tape the edges of the contact paper to the floor so it will not slip. Encourage your toddler to walk, dance, or hop across the sticky surface (idea source). The resistance of the runway will provide a bit of a challenge, keeping your toddler entertained for a while. We haven't tried this particular activity yet, but I've tucked the idea away so I can use it on a day when we need a particularly novel activity!

Move through an obstacle course.

Use items you have around the house (pillows, boxes, pool noodles, etc.) to create an obstacle course. Encourage your toddler to move through it as quickly as he or she can.

Build a tent or fort.

Like many toddlers, my daughter loves sitting under tables and squeezing into tight spaces. Why not take advantage of this by encouraging her to get active by building a tent or fort? Move around the house gathering supplies (blankets, flashlights, pillows, etc.), assemble a tent, and sit in it to play or read books. The tent may not last long—your toddler may tear it down pretty quickly—but this just provides an opportunity to build a new one!

Play with a set of "Get Up and Move" dice.

I love this homemade toddler game that uses "Get Up and Move" dice. You make dice out of boxes. On one box, you write action words and on the other you write directional words. Find complete instructions on Growing a Jeweled Rose. The pictures on this page show the game being played outdoors, but there is no reason it can't also be played indoors.

Shake clothespins out of a milk jug.

Take a half gallon or gallon plastic milk jug and wash it thoroughly. Gather old-fashioned ball-top clothespins (those that don't contain a spring). These are constructed of a single piece of wood and fit easily through the opening of the jug. For fine motor skill practice, let your toddler fill the jug with clothespins. Then, for a fun physical activity, let him or her hold the jug upside-down by the handle and shake it vigorously until all the clothespins have fallen out (idea source).
I hope a few of these activities help your toddlers get moving on days when they must remain indoors!
Do you have additional ideas that you can share with us? What physically active activities do your toddlers enjoy?
Shared at the following:
Friday Frivolity, Monday's Musings, Titus 2 Tuesday, Making Your Home Sing, and The Art of Homemaking.
Save
Save
Save
Save
Save