One of my marriage goals for this year is to cultivate a sizzling sex life. When I wrote about this goal, I noted a few specific strategies I'll be using to attain it. Two of these have to do with the environment in my bedroom.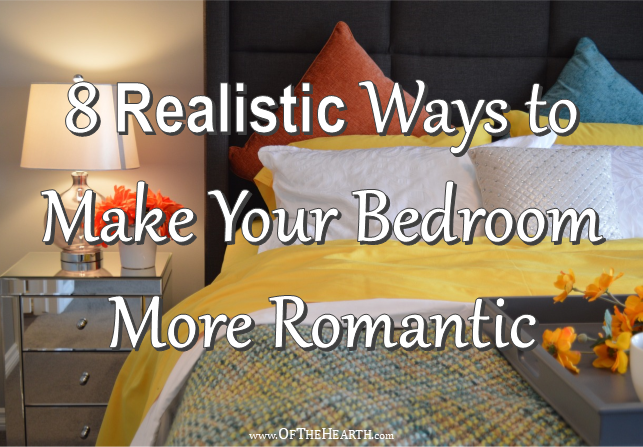 As I've thought more about this goal, I've realized that there are quite a few things we can do to make our bedrooms more romantic. Some of these aren't realistic for my husband and me because they are too pricey (we're on a tight budget) or they don't fit our lifestyle (they involve banning kids from the bedroom entirely, which we don't do). However, there are a number of simple, realistic things that most of us can do to make the environments in our bedrooms more romantic.
Creating a romantic environment in your bedroom
Declutter.

My bedroom often becomes cluttered. There's the pile of clothes my husband left on the floor, the craft supplies stacked atop the table in the corner, and the basket on my dresser that is overflowing with socks that have no mates. Clutter is distracting and makes us feel weighed down. Clutter isn't conducive to romance! Decluttering our bedrooms and giving them a deep cleaning is a simple, free way to make them more romantic.

Keep the bedroom from becoming a multipurpose room.

I've read many articles in which authors urge their readers to make sure the only activities that take place in their bedrooms are sleep and sex. They encourage readers to keep things like desks and treadmills out of their bedrooms because these don't foster romance or relaxation. I agree that it is optimal to keep these things out of the bedroom. If this is possible, then do it! However, many of us have homes that are too small to have designated offices, gyms, craft rooms, etc. so we must use our bedrooms for activities other than sleeping and sex. When this is the case, we can position furniture and use accessories like room dividers to separate and define the rolls of various parts of the room.

Don't decorate with leftovers.

When I decorate my home, I tend to focus most of my attention on areas that guests will see (entryway, living room, dining area, half bathroom, etc.). Therefore, our best curtains, wall hangings, and knickknacks are located in these areas. Shabby curtains, threadbare sheets, and mismatched wall hangings don't exactly inspire feelings of romance. If we're going to create romantic environments in our bedrooms, then we have to put as much effort into their decor as we do to the decor in the common areas of our homes.

Decorate with comforting colors.

The colors used in a room have a huge impact on how we feel when we're in it. Thus, it's important that we decorate our bedrooms in colors that make us and our spouses feel comfortable. There are lots of ways to use color in a room. Painting the room (or one wall of the room) is generally an affordable and easy way to make a big impact. Bedding can also have a big impact, as can wall hangings and curtains.

Integrate accent lighting.

Sometimes bright, overhead light isn't as romantic as soft, indirect light. We can easily integrate the latter into our rooms by placing small lamps on nightstands and using candles. Personally, I'm not a huge fan of candles because they are not great for indoor air quality. If you feel similarly, then consider these LED candles that are made of genuine wax! They look incredibly similar to real candles.

Use scents.

Bedrooms don't always smell wonderful, especially if you venture near the dirty clothes hamper or the entrance to an attached bathroom. The scents in a room can significantly impact how we feel, though, so making sure our rooms have pleasant scents can really boost their romantic ambiance. There are lots of ways to do this, including linen sprays, potpourris, and scented candles. Again, I'm concerned about indoor air quality (VOCs and other harmful substances are released into the air by candles and room sprays because manufacturers must combine a number of chemicals to create their scents), so we've been using a small essential oil diffuser with a light, cheery scent.

Incorporate items that remind you of special times in your marriage.

I know a woman who made throw pillows for her bed out of spare fabric from her wedding dress. I know another who has wedding photos and copies of her and her husband's wedding vows hanging above their bed. I think these are awesome items to use in decorating a bedroom because they remind these couples of special times in their marriages. I need to do a little brainstorming to see what special items I can incorporate into my bedroom decor! Perhaps you have some photos, dried flowers, ticket stubs, love letters, etc. that you can use in your bedroom.

Keep electronic screens out.

My husband and I both use our smart phones as alarm clocks, so we allow our phones in the bedroom. However, we do not allow any other screens in our room: No TV, no tablets, no laptops, etc. Screens are a huge distraction. They often take our eyes and minds off of our spouses. Additionally, TVs rarely have anything edifying to show us (shows are often full of violence, profanity, distasteful humor, etc. and the news is full of heavy, sad stories). Why would we want to bring these into our bedrooms? When we ban screens from our rooms, we show our spouses that they are the priority and we are better able to focus on them. This fosters physical and emotional intimacy.
I'm not particularly gifted at interior decorating, so I'm stumbling through the application of these ideas. However, I love how even a simple change (like getting new sheets) can make a huge difference in the feeling of a room.
How do you create a romantic environment in your bedroom? Please share your ideas with us!
Shared at the following:
Encouraging Hearts and Home, Busy Monday, Over the Moon, and Sundays at Home.