We all know that our marriages are strengthened by date nights, weekend getaways, and similar activities that allow us uninterrupted time to focus on our spouses. Though they are very beneficial, these activities only comprise a small fraction of our marriages. Most of our time is spent completing everyday activities (cooking, working, completing yard work, grocery shopping, etc.).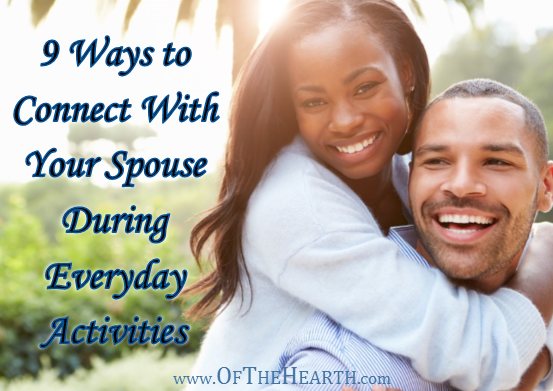 If we're going to have strong marriages, then we can't rely solely on dates and getaways to keep us connected; we have to find ways to connect as we live our daily lives. How can spouses purposefully connect in this way? Here are the strategies that are working in my marriage.
How to connect with your spouse through everyday activities
Discuss how your days have gone.

A simple "How was your day?" over dinner or before bed goes a long way in helping us stay connected with our spouses. As we answer this question, we are able to inform our spouses of things that are happening in the home or at work and to inform them of any upcoming events that are significant. Though these exchanges are often routine, they open up the door to discuss deeper matters including issues with which we are struggling or concerns we have about work, finances, relationships, etc.

Share inside jokes and stories.

We're able to bond and connect with our spouses when we share memories that others don't "get." When these memories come to mind—as we eat meals, watch movies, attend church services, etc.—we can exchange winks or knowing glances with our spouses.

Exchange messages throughout the day.

Thanks to text messaging and email, most of us are not completely out of contact with our spouses throughout the day. When we use these technologies to send brief messages to our spouses, it fosters connectedness by letting them know that we are thinking of them and that we care about how their days are going. Don't despair if you or your spouse can't access these technologies throughout the day. You can always tuck handwritten notes in each other's lunches instead!

Hug and kiss when you say hello and goodbye.

Touch provides tangible confirmation of the words we speak. Thus, it is important that we exchange touch with our spouses throughout the day in order to demonstrate our connectedness. A natural time to do this is when we greet and say goodbye. A brief hug or kiss is often sufficient, though it is sometimes nice to exchange more lengthy embraces.

Hold hands.

Holding hands is another way we can tangibly display what is in our hearts. Unlike displays of affection such as kissing, holding hands is subtle so it's generally considered to be appropriate for public settings and typically won't bother other people. We can hold hands with our spouses while engaging in many different activities (eating meals, driving, sitting in Bible studies, walking through stores, etc.).

Pray together.

Our marriages are strengthened when we partner with our spouses to humble ourselves and bring needs before the Lord. We walk away from prayer feeling a deep sense of unity. Additionally, we can often transition from times of prayer into beneficial times of reflection and planning for the future.

Pray for your spouse when you're not together.

I realize I just said that we should pray together, but we should also pray on our own for our spouses. How exactly does this help us connect? When we pray for our spouses, they are on our hearts and minds. I've found that this makes it easy to jump right into meaningful interactions after we've been separated due to work or other activities.

Flirt.

Flirting—affectionate behaviors that let our spouses know that we are still interested in them—can be integrated into virtually any activity. Try using some of these approaches as you complete whatever routine tasks are before you.

Make an effort to do kind things for each other.

My husband always enjoys it when I grab his favorite treat while at the grocery store or surprise him with queso dip. I'm always super grateful when he takes our toddler out for a bit so I can get some extra cleaning done or take a nap. When we look for ways to bless our spouses as we go about our everyday activities, it means that we are thinking about them and are making an effort to understand their needs. Our spouses recognize this when they receive the gestures, thereby strengthening our feelings of connection.
Do you feel that you are able to connect with your spouse during everyday activities? What makes this possible?
Shared at the following link parties:
Monday's Musings, Titus 2 Tuesday, Tuesday Talk, Coffee and Conversation, Shine Blog Hop, Friday Frivolity, Wedded Wednesday, and The Art of Home-Making.