When my husband and I were in premarital counseling, our facilitators placed a lot of emphasis on continuing to date once we were married. We thought it sounded like a nice idea, but didn't understand why they emphasized it so much. Fast forward to now and hindsight shows us why.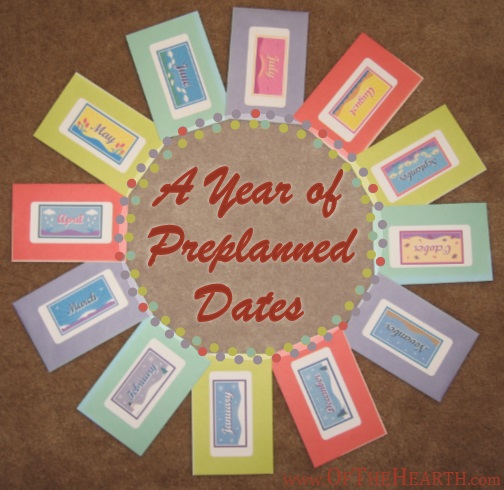 Life is busy and full of demands that draw our attention away from each other. We spend a lot of time together while engaged in everyday activities (e.g., eating dinner, going to church and small group, completing yard work), but our interactions during these activities aren't always of the best quality.
In order to keep the lines of communication open and maintain feelings of closeness, we need quality, one-on-one time together. To facilitate this, I'm giving my husband a year of preplanned dates for Valentine's Day.
I wrote 12 date ideas on colored notecards and tucked each notecard into an envelope. I then labeled each envelope with the name of one month of the year. I'll have my husband wait to open each envelope until the corresponding month arrives. He'll get to open a new "gift" each month! In order to keep within our budget, I was sure to plan several dates that entail free or low-cost activities.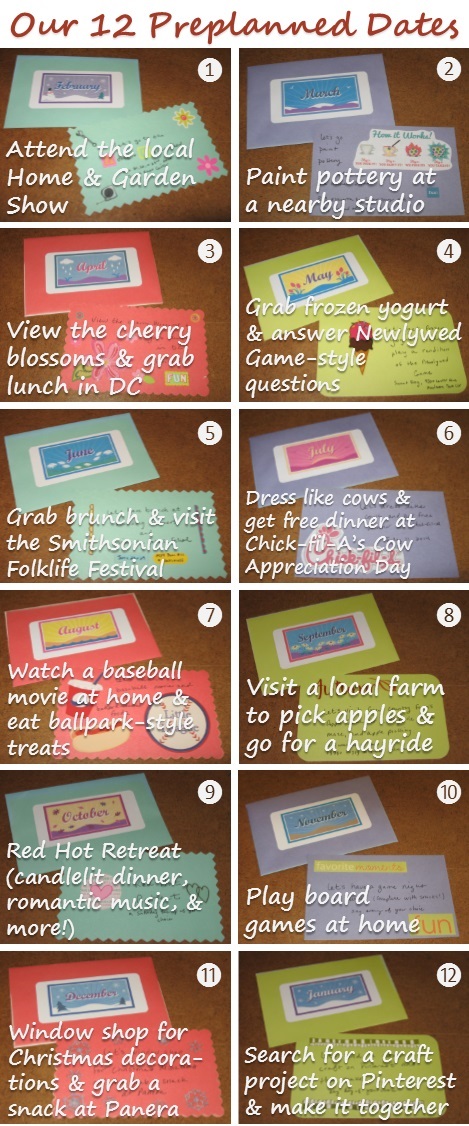 Are you interested in this idea but unsure you can come up with 12 date ideas? It's not easy (especially if you are on a budget), so on Monday of next week I'll post a long list of date night ideas categorized by season. I've seen this gift idea floating around Pinterest, so you can also look there for additional inspiration.
How do you carve out time to date your spouse?
Shared on the following link-ups:
Creativity Unleashed, Whatever Goes Wednesday, Wifey Wednesday, Welcome Home Wednesday, WholeHearted Wednesday, Works for Me Wednesday, One Project at a Time, Titus 2sday, Titus 2 Tuesday & Living Proverbs 31.