For many centuries the hearth (a stone or brick fireplace) was the central and most important feature of a home. It was indispensable because it heated the home and aided in food preparation. Some hearths are located in smithies instead of in homes. These hearths, known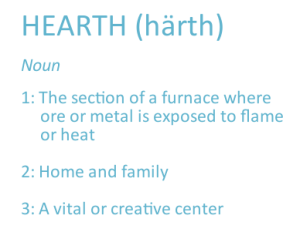 as forges, are used by smiths to heat metals. The metals become easier to shape when they are hot, allowing smiths to use tools such as hammers and chisels to forge the metals into various shapes. Given the roles of the hearth in the home and smithy, the term is now sometimes used to describe centers of vitality and creativity. In many ways, these definitions—a gathering place that provides warmth and nourishment, a place of formation, a center of vitality and creativity—embody the spirit of this blog.
The posts featured here address the "stuff" of life—budgeting, communicating in marriage, housekeeping, maintaining friendships, etc. This blog is a venue for thoughtfully discussing these sorts of everyday topics in a way that facilitates growth into Christ's likeness, supports cultivation of family, and provides inspiration for making a positive difference in the world. That's quite a mouthful, so I sum it up by saying that OF THE HEARTH is a blog about faith, family, and forging a difference in our communities.
Take a look around. Be encouraged. Be challenged. Join in the discussion and share of your experiences so you can encourage and issue challenges to others. I hope you become a regular part of the community here.
Ways to Connect
I'd love to connect with you on Facebook and Pinterest. Click on the buttons below to visit OF THE HEARTH's social media pages.
Do you want to make sure you don't miss any new posts? Simply enter your email address in the field below the Email Subscription title on the sidebar and you'll begin receiving notifications of new posts via email.
Save