We have several family members coming to spend the week of Thanksgiving with us. As much as I love cooking, I'd rather spend time visiting with my loved ones than in the kitchen preparing meals.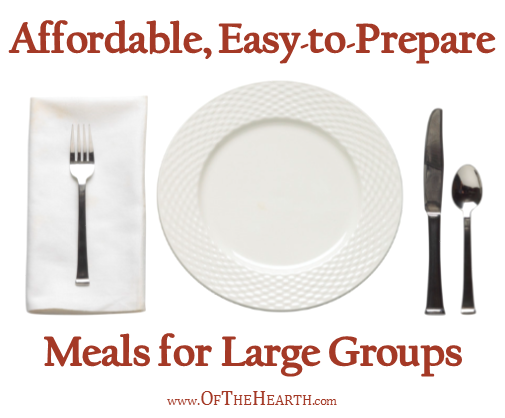 We're also on a tight budget, so I don't want to break the bank when purchasing foods for us to eat. I've been brainstorming and have come up with a number of reasonably priced meals that can be prepared without much fanfare.
Meal ideas for large groups
Tacos and burritos

. Only a handful of ingredients are needed for basic tacos and burritos: tortillas or taco shells, ground meat, seasonings, lettuce, tomato, and sour cream. The meat can be browned in minutes and the veggies take very little time and effort to chop. Each member of the group can assemble his or her own. Complete the meal by adding refried beans and Spanish rice as side dishes. If you want to dress up the tacos and burritos, include guacamole, salsa, and other toppings. Burrito bowls are a variation of this idea that are a huge hit in my house.

Baked potatoes

. Baking potatoes cost anywhere from about $0.69/lb to $1.19/lb and they hardly take any effort to bake. When paired with various toppings (broccoli, shredded cheese, sour cream, butter, chili, pulled pork, etc.), they make a hearty meal. Because you can use a wide variety of toppings, including less traditional ones (shredded Swiss cheese and diced ham, buffalo chicken, roasted veggies and garlic butter, etc.), everyone in the group can prepare one to his or her liking. Bake some sweet potatoes to add additional variety!

Spaghetti

. Spaghetti with meat marinara has to be one of the most widely liked meals in the United States. Given this, and that it contains affordable ingredients that can be prepared quickly (especially if you use sauce from a jar), it is a great meal for a group. Complete the meal with salad or green beans and breadsticks. If you have sufficient time and money, you could serve a second variety of pasta such as fettuccine Alfredo or you could make lasagna or baked ziti.

Soup or chili

. A big pot of soup (chicken noodle, vegetable beef, etc.) or chili is always a huge hit with a crowd! They're favorites of hostesses because they contain simple, affordable ingredients that can be thrown into a pot some time before the meal and left to simmer. The soup or chili becomes a filling meal when paired with biscuits or rolls. We'll definitely be having Turkey and Wild Rice Soup with leftover turkey from Thanksgiving dinner.

Chili mac

. Chili mac is a combination of the two previous meal ideas: chili and pasta. Chili ingredients (ground meat, pureed tomatoes, beans, onion, chili powder, etc.) and pasta are all very affordable. They can be prepared quickly and combined to make a very flavorful and hearty meal. Cheese, sour cream, hot sauce, and other garnishes can be offered for customization, but this dish is so filling that sides are unnecessary. Click here for my favorite chili mac recipe.

Sloppy joes

. Open a bag of buns and brown ground meat with sloppy joe sauce ingredients and you've got a tasty and filling entrée. A variety of side dishes go well with sloppy joe sandwiches, including vegetable sticks or sliced fruit, oven baked potato wedges, and salad. Pulled pork sandwiches or shredded chicken sandwiches take a bit more effort but they are also great for crowds.

Salad

. A salad bar is another option that allows each person in a group to assemble a meal that he or she likes. The cost of the vegetables can add up and it can take some time to wash and prepare all of them, but it's a fun option if you have the time and money. Be sure to include a wide variety of vegetables for any picky eaters and an assortment of meats and cheeses for those who like heartier meals. A side such as garlic bread is a nice touch.
What additional ideas do you have? What are your go-to meals when serving large groups?
Shared on the following link-ups:
Thrifty Thursday, Works for Me Wednesday, Whatever Goes Wednesday, Handmade Tuesdays, Motivation Monday & Making Your Home Sing.