My frugal sensibilities find it difficult to spend a lot of money on clothes. It comes as no surprise that it's especially difficult to purchase clothing items that are designed to be worn for the relatively short period of time that comprises pregnancy!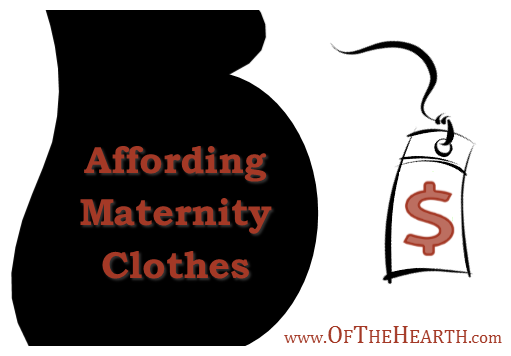 Fortunately, I'm visiting a couple of retailers and using a few tricks to try to acquire maternity clothes without breaking the bank.
Strategies for affording maternity clothes
Shop at thrift stores and garage sales.

Because women generally wear maternity clothes for limited amounts of time, they often clear them out of their closets by donating them to thrift stores or selling them at garage sales. Of course, you should take your time examining thrift store and garage sale items for stains or tears, but it's likely you'll find some great clothes at fabulous prices.

Check the clearance racks in the maternity department of your favorite store.

Whenever I shop for clothes, I head straight for the clearance racks. The clothes there are in perfectly sound condition, but they cost a fraction of the price of non-clearance items. Sometimes the clearance racks are disorganized and it takes patience to weed through items that are the wrong size or not your style, but it's worth it!

Look on craigslist and eBay.

I've seen women sell their maternity wardrobes as lots on craigslist and eBay. Depending on the lot, you can sometimes find a dozen or more clothing items selling for $50-$100. I haven't found a lot that works for me yet, but I'm keeping my eyes open for one. Even if one or two of the items don't work, this could still be an economical way to purchase a maternity wardrobe.

Sign up for emails from maternity clothes retailers.

Wading through emails from retailers can be annoying, but these emails can be very valuable. Retailers often send out special coupons or coupon codes via email. These can save you quite a bit of money!

Buy basic items that are easy to mix and match.

A black skirt can be worn with just about any top. However, a teal skirt isn't quite as versatile. As you can see from this example, it is beneficial to purchase basic clothes that are easy to mix and match so you can affordably create versatility in your wardrobe. Look for clothes that are solid, neutral colors and fabrics and styles that can be worn on casual and more formal occasions. These basic items can be dressed up with accessories.

Select regular clothes that will accommodate a growing belly.

Some clothes, especially shirts and dresses with high waistlines and those made of stretchy fabrics, can be suitable until the final months of pregnancy. You might have some of these in your closet already or you might be able to purchase a few of them during pregnancy with plans to continue wearing them after pregnancy.

Borrow clothes from a friend.

If you have friends or family members who've been pregnant recently, you may be able to borrow clothes from them. This is a great option because it won't cost you anything!
What strategies have you used to find affordable maternity clothes?
Shared on the following link-ups:
Thrifty Thursday, Works for Me Wednesday, Titus 2sDay, Titus 2 Tuesday & Monday's Musings.