I love telling stories about when my husband and I first met. One of the best stories is how he, during our very first interaction, asked me how many children I wanted. His question didn't bother me and it set the tone for open, honest communication in our relationship.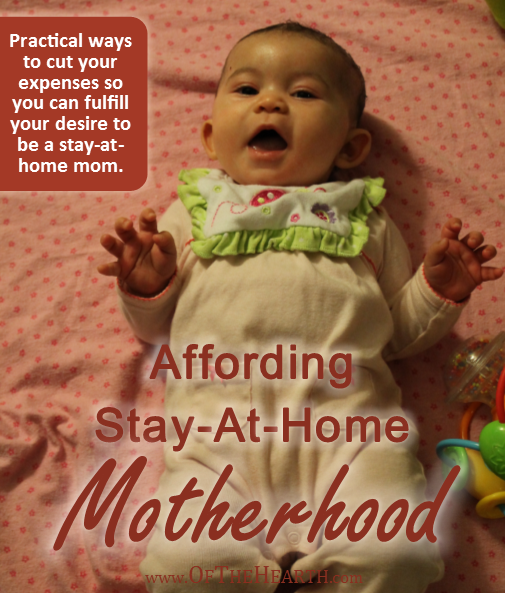 Given this initial discussion, it likely won't surprise you that we had a conversation while we were dating about how I wanted to be a stay-at-home mom. Though we decided in advance that I would stay home, it hasn't always been easy financially.
You know that old adage that if there's a will there's a way? I'd like to say this of stay-at-home motherhood, but I know it isn't true—some families simply can't get by if both spouses don't work. However, many families can!
If you're hoping to stay home but you're not sure what practical things you can do to afford it, consider the strategies that have worked for us and see if they might help you fulfill your desire of being a stay-at-home mom.
How to afford to be a stay-at-home mom
Plan ahead (if possible)
The optimal time to begin planning for stay-at-home motherhood is before you have children. Start living on one income now. This means you may need to buy or rent a modest home instead of your dream home and you may need to buy used cars. We've done both of these. We purchased a humble townhouse instead of the larger, single family home we desired and both of our cars are several years old. Another useful approach is to do your best to get out of debt. When we first got married and I still had a job, we based our budget on his paycheck and used my paycheck to make extra payments on our student loans. Though we're still paying on these and will be for some time, we were able to get a little extra paid off before having a baby.
Plan meals
Food accounts for a significant portion of many couples' budgets, which means meal planning can help you save a considerable amount of money.
Eat out sparingly.

If you eat out, you'll likely spend around $5-10 per person at a fast food restaurant or $8-25 per person at a fast-casual or sit-down restaurant. If you cook at home, you can prepare tasty, healthy meals for $1-3 per person. Need some ideas for affordable meals to cook at home? Check out my recipes page.

Menu plan.

If you plan out a menu, you no longer have to resort to eating out because you can't figure out what to cook for dinner. Moreover, you can develop a grocery list so you only buy what you need when you grocery shop. There are numerous ways to plan menus, including my approach which is to develop a new monthly menu for each season.

Eat leftovers.

Eating last night's dinner for lunch today can save you a bundle! Though leftovers are often thought of as boring, there are numerous ways to jazz them up so they are exciting.

Grow your own.

Saving money is just one of many benefits to growing your own fruits and veggies. You have to be careful here so you don't spend so much on supplies that it actually costs you money, but with judicious planning you can eat fresh fruits and veggies at very little expense to you.

Buy generic and buy in bulk.

Purchasing generic versions of your favorite foods can shave a lot off of your grocery bill. Some may not be quite as good as their name brand counterparts, but this is a small sacrifice if it means getting to stay home with your kiddos! You may be able to save some additional money by making bulk purchases (read about how to afford initial bulk purchases here). Always double check to make sure a given item is cheaper when sold in a bulk quantity and avoid common mistakes that lead to waste.

Be careful with sales and coupons.

Sometimes sales and coupons are just attention grabbers—they don't actually save you money! Be familiar with the regular prices on items at various grocery stores so you know when a sale price is truly good and check to make sure you can't get the generic version of a product for less than the coupon price of the name brand version.
Purchase items when they are in season
We often think of fruits and vegetables as being in season at various times of the year, but other products (small appliances, bikes, flashlights, toys, etc.) are also more affordable at certain times during the year. Click here to see a printable month-by-month buying guide.
Cut down on clothing expenses
Unless someone in your household works in a job that is very rough on clothing or requires a certain uniform, clothes really shouldn't take up much of your budget.
Enlist strategies to make clothes last longer.

There are a number of simple strategies you can use to help keep your clothes looking new (e.g., wash clothes as directed on their labels, turn clothes wrong side out before washing, hang dry clothes). See here for a comprehensive list.

Shop clearance racks, thrift stores, and garage sales.

I can't remember the last time I paid full price for a clothing item. We typically wait for holiday weekends when there are sales and then head straight for the clearance racks. We're also fans of stores like Ross and Marshalls. On occasion we're able to find great clothes at thrift stores, too.
Get creative with entertainment
It is easy to eliminate or significantly reduce entertainment expenses because entertainment is an inessential budget category and there are a lot of fun things you can do for free. We choose to go without cable or satellite TV (and I'm glad we do without these). We rarely see movies in the theater. We rent them for free from our local library or watch the movies that come with our Amazon Prime membership. We play board games and go on walks. We take part in frugal activities with other couples. We attend free community events. We rarely travel, but when we do we enlist strategies to save money.
Be wise with energy usage
Simple strategies can save you lots of money on your electric and gas bills. Begin by reducing your household's standby power use (standby power is electricity used when electronic items are switched off or not executing their primary functions). This can eliminate up to 10% of your electric bill! When possible, use a toaster oven to bake (particularly during the warm summer months) and line dry your clothes (you can do this even if you don't have an outdoor clothes line). Finally, take advantage of frugal strategies for heating and cooling your home.
Breastfeed and use cloth diapers
If you're having a baby, breastfeeding and using cloth diapers can save you an almost unbelievable amount of money. Formula costs $60-100 per month and disposable diapers cost $30-85 per month. However, breastfeeding is practically free! It has cost me very little (just a couple nursing tank tops and bras, a tube of lanolin, and some Mother's Milk tea). As far as cloth diapers are concerned, we spent approximately $250 on our cloth diapers (cotton prefolds and Thirsties Duo Wrap Snap covers). These diapers are very effective (we don't have leaks!) and durable, so we have all we need until we potty train. As a bonus, we can reuse the diapers for our next child!
Give haircuts at home
How much does it cost you to get a haircut? How much does it cost your spouse to get a haircut? How many haircuts do you each get per year? The money spent on haircuts can really add up! We decided early on that we weren't going to pay others to cut our hair. We invested in a good hair clipper and I learned how to cut my own hair and my husband's hair.
Furnish your home with used or homemade items
Embrace an eclectic décor and learn how to spruce up or upcycle used items. With the help of garage sales, craigslist, and thrift stores, you can furnish and decorate your home for very little. Learning some basic sewing skills can allow you to do things like sew your own curtains and throw pillows. Though I know my home will never grace the cover of a home decorating magazine, it is quite comfortable and I've grown to love my mismatched furniture.
Find ways to work from home
I know many women who bring in a little income by working from home. Some are salespeople for various products (cosmetics, candles, kitchen utensils, essential oils, etc.), some make items and sell them on Etsy or at craft fairs, and some babysit for friends and neighbors. Consider if there is some way you might be able to bring in a little extra money each month.
Though some of these strategies may be inconvenient to implement at times, the results are truly priceless: I'm with my daughter every day to enjoy each precious moment and I'm the primary influence in her life.
If you are a stay-at-home mom, then please add your strategies. How do you afford stay-at-home motherhood?
This post contains affiliate links. See About the Blog on the menu for details.
Shared on the following link-ups:
Thrifty Thursday, Growing in Grace, From House to Home, Coffee and Conversation, Titus 2sday, Titus 2 Tuesday, Living Proverbs 31, Motivation Monday, Making Your Home Sing & Saturday Soiree.
Save