When you look at baby supply checklists, it is easy to see why people say that babies are so expensive. You're sure to break the bank if you purchase all of these purported essentials!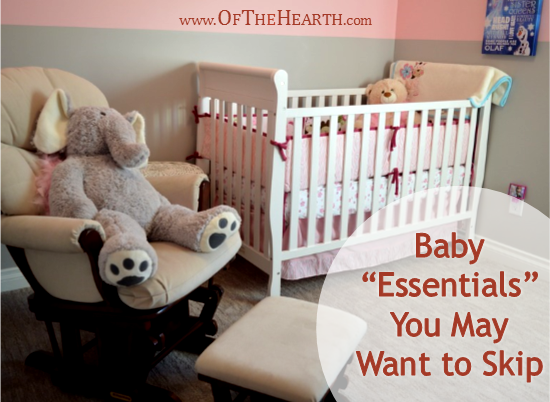 The good news is that not all of these must-haves are essential. Many are convenient to have, but you'll do just fine without them. Others are just plain impractical!
As we're preparing to welcome baby #2, we're checking to see if we need anything new. Through this process, I've been reminded of why the following "essentials" aren't really needed. Some of the following links are affiliate links (click here to read about what this means).
Inessential baby items
Themed bedding and nursery décor
Why they're unnecessary: Babies can't fully appreciate the décor and will outgrow the cute nursery quickly. Additionally, some types of bedding (pillows, comforters, bumpers, etc.) are safety hazards.
Alternatives: Pass on a pricey crib bedding set and choose fitted crib sheets that are a color or pattern you prefer. Select a well-constructed crib that meets current safety standards. If you want to get a lot of use out of the crib, then consider getting a convertible one that transforms into a toddler and "big kid" bed. When selecting accessories (curtains, rugs, wall hangings, etc.), consider getting some that are age-neutral so your child will enjoy them as he or she ages. Some families find that a crib and accessories aren't even necessary. Many of these families practice bed-sharing and simply forego setting up a nursery.
Baby bath tub
Why it's unnecessary: You already have a bathtub or sink in your home that you can use to bathe baby. If you use a baby-sized bathtub, you'll have to clean and find a place to store this rather bulky piece of equipment. These tubs are suitable when babies are small, but many babies outgrow them quickly.
Alternatives: A bath sponge or bath pad is an economical option that allows you to easily bathe baby in your tub or sink. These are small so they are easy to store and they can be washed in the clothes washer, which makes cleanup a breeze. We used a bath pad and loved it for these reasons! Of course, you can always pass on special bath items entirely and bathe your baby with you or by using a towel as a cushion in the tub.
Hooded bath towels
Why they're unnecessary: You already have towels in your home that you can use to dry baby. Though hooded bath towels are cute, they are often smaller and may be less absorbent than regular towels.
The alternative: Your regular bath towels will work just fine for drying baby. I always selected a soft, fluffy one and, if it was chilly, pulled a corner of the towel over my little one's head to create an impromptu hood.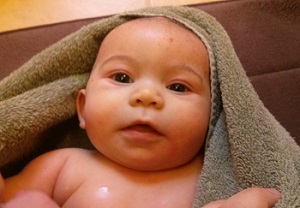 Lots of toys
Why they're unnecessary: Newborns can't really play with toys. As babies age, they do appreciate toys but they are more than satisfied with the basics: Rattles, teething toys, baby-safe mirrors, books, etc.
Alternatives: In addition to the basics mentioned above, let baby play with common household items that make great baby toys. Items like boxes, laundry baskets, mixing bowls, and spatulas kept our little one entertained for hours!
Jars and pouches of baby food
Why they're unnecessary: You likely already purchase foods that can be prepared for baby. The cost of prepackaged baby foods adds up, but these are no more nutritious or appropriate for baby than foods you can prepare yourself.
Alternatives: Jars and pouches of baby food contain pureed foods. Pretty simple, right? You can easily make these yourself without any special equipment (such as a baby food maker). Peel an avocado or banana and mash it. Voila! You have baby food. Puree some peas that you've steamed. Voila! You have baby food. You can even puree things like meats and beans. I made all of my little one's foods with the help of basic kitchen equipment like a fork and food processor. I froze the purees in ice cube trays and thawed small amounts as needed. Another alternative is skipping pureed foods altogether and using an approach referred to as baby-led weaning. This involves introducing solids by allowing infants to self-feed most of the same foods consumed by other family members.
Wipe warmer
Why it's unnecessary: Room temperature wipes clean baby's bottom as well as warm ones. Additionally, many wipe warmers have a tendency to dry out wipes, requiring you to add liquid to them if they are going to do their job.
Alternatives: Room temperature wipes work just fine! Baby gets used to their cool sensation because the wipes you use while out and about haven't been warmed. Even if baby does get bothered by a cool wipe, it doesn't cause any permanent harm. Disposal wipes aren't even technically necessary—you can use reusable cloth ones instead. We cloth diaper, so I often use cloth wipes. However, I do rely on disposable wipes quite a bit. My little one has thrived despite the fact that I've never once warmed a wipe for her.
Infant car seat
Why it's unnecessary: A single convertible car seat can be used for baby from the time he or she is born through the early childhood years. Using a convertible car seat from birth generally saves parents money (they don't have to replace their infant car seat with a convertible one when baby is 6 months to 1 year old) and helps parents comply with the AAP's safety recommendations (that infant car seats only be used for travel—not for sleeping, feeding, or other uses outside the vehicle). Due to their size and special needs, premature infants and infants with medical problems may require infant car seats. Check with your pediatrician if you have questions.
The alternative: I know that many parents love the convenience of being able to carry baby around in an infant car seat, especially if he or she has fallen asleep in the car. Personally, my husband and I do not feel that the bulk and weight of an infant car seat is convenient, so we've only used convertible car seats and will continue to do so when we welcome our new baby this summer. We had no need for the travel systems associated with infant car seats because we carried our little one in a Moby Wrap or soft-structured carrier. This hands-free option truly was convenient and we felt it was best for her development to have her upright and against our chests.
What you consider to be essential will depend on your lifestyle and family, so you may disagree with what I've said above. Now it's your turn! Share what baby "essentials" you think are unnecessary.
Shared at the following link parties:
Monday's Musings, Titus 2 Tuesday, Tuesday Talk, WholeHearted Wednesday, Coffee and Conversation, Shine Blog Hop, and The Art of Home-Making.