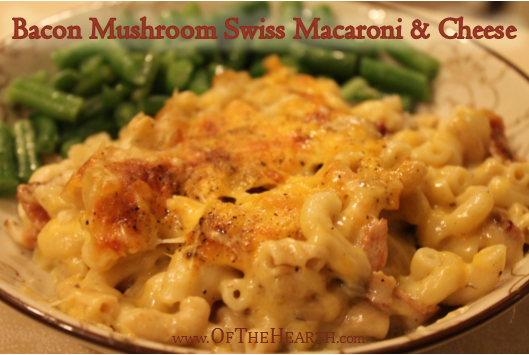 It had been a while since we tried a new macaroni and cheese recipe, so for this menu I came up with a truly unique variety: Bacon Mushroom Swiss. These flavors go so well together!
Ingredients
3 cups macaroni (uncooked measure)
2 tablespoons butter
2 cups homemade cream of mushroom soup or 1 can (10.5 oz) condensed cream of mushroom soup
1/2-1 cup sliced mushrooms
1/2 pound bacon, cooked and crumbled
Salt and pepper
2 cups shredded Swiss cheese
2 cups shredded cheddar cheese
1 cup milk
Instructions
Preheat oven to 350°F. Cook macaroni according to package instructions, drain, and return to the pot in which it was cooked. Stir the butter, cream of mushroom soup, mushrooms, crumbled bacon, and several dashes of salt and pepper into the macaroni.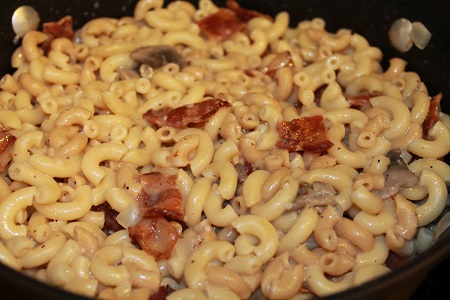 In a medium bowl, mix together the Swiss and cheddar cheese. Place one-third of the macaroni mixture in a greased oven-safe bowl or casserole dish. Sprinkle with one-third of the shredded cheese. Repeat twice, so you have a total of three macaroni-cheese layers. Pour the milk over the top and sprinkle with additional salt and pepper.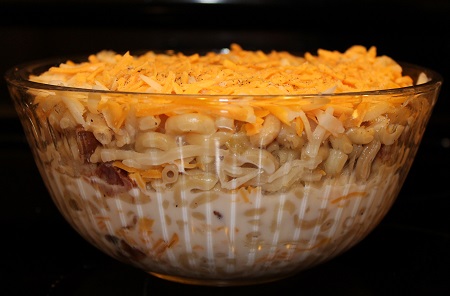 Bake uncovered for 30-35 minutes or until it is heated through and the top layer of cheese is light brown and crisp. Yield: 5 servings.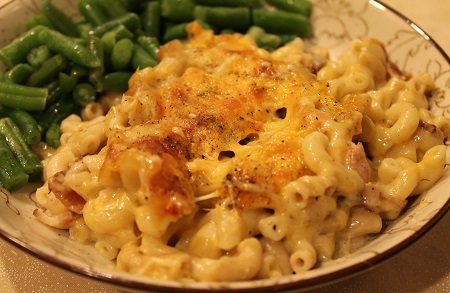 Notes
This variety of macaroni and cheese was a little daring for us. We like Swiss cheese, but it can have a pretty strong flavor. This is why I used both Swiss and cheddar cheese in the recipe. I'm very glad I did. The flavors of the Swiss cheese, bacon, and mushrooms were very balanced, creating a rich, satisfying dish.
The ingredients for this dish cost approximately $8.65, which is $1.73 per serving. We serve it with a vegetable on the side (typically green beans), which brings the cost per serving to $1.90. Give this unique, hearty dish a try!
Shared on the following link-ups:
Thrifty Thursday, WholeHearted Wednesday, Making Your Home Sing, Weekend Potluck, Whatever Goes Wednesday, One Project at a Time & Handmade Tuesdays.