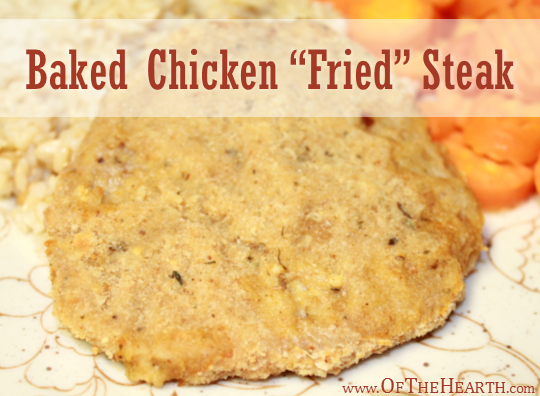 Chicken fried steak is an incredibly tasty comfort food. Unfortunately, it's not particularly healthy. Tasty and healthy don't have to be mutually exclusive, so I tried a recipe for a baked version. The result was so good that I've added the recipe to my collection of favorites!
Ingredients
(Adapted from this recipe.)
6 beef eye of round steaks
2/3 cup flour
1/2 cup seasoned bread crumbs
2 tablespoons powdered buttermilk (optional)
3 eggs
Cooking spray
Gravy of your choice (I use homemade mushroom gravy)
Instructions
Preheat oven to 400°F. Line a cookie sheet with parchment paper. Pound steaks to 1/8 inch thickness. Set aside.
In a bowl, stir together the flour, bread crumbs, and powdered buttermilk. In a separate bowl, beat the eggs. Coat one steak in the flour mixture. Dip the coated meat into the egg and then re-dip in the flour mixture. Place the breaded meat onto the prepared cookie sheet. Repeat with the remaining steaks. Spray the tops of the steaks with cooking spray.
Bake the steaks for 10 minutes. Remove from the oven and turn over. Spray the newly exposed sides with cooking spray. Return to the oven and bake for 10 minutes. The breading will be crispy and slightly golden brown when done. Smother with gravy before serving. Yield: 6 servings.
Notes
My family was hooked after just one taste! Using both bread crumbs and flour to bread the steak gives it a hearty texture. The buttermilk gives it a rich, savory flavor. I mix the buttermilk powder in with the flour and breadcrumbs because this is easier than trying to get the powder dissolved into water and added to the eggs. If you have liquid buttermilk on hand, you can mix it in with the eggs. You can also do this with regular milk or you can skip the milk altogether. I serve the steak over rice, but it would also go well over egg noodles, mashed potatoes, or by itself.
The ingredients for this chicken "fried" steak cost approximately $7.85, which is just $1.31 per serving. It takes a little work to prepare this dish because you bread the steaks before baking them, but this isn't any more difficult than making traditional chicken fried steak. It certainly is healthier prepared in this fashion and it is quite flavorful!
Have you ever tried making baked versions of foods that are typically fried? Did they turn out well?
Shared on the following link-ups:
Handmade Tuesdays, Making Your Home Sing, Weekend Potluck, What's for Dinner?, and Inspiration Spotlight.
Save