Because we thoroughly enjoyed the Ranch Chicken and Veggies Sheet Pan Dinner I made a few weeks ago, I wanted to try another sheet pan meal.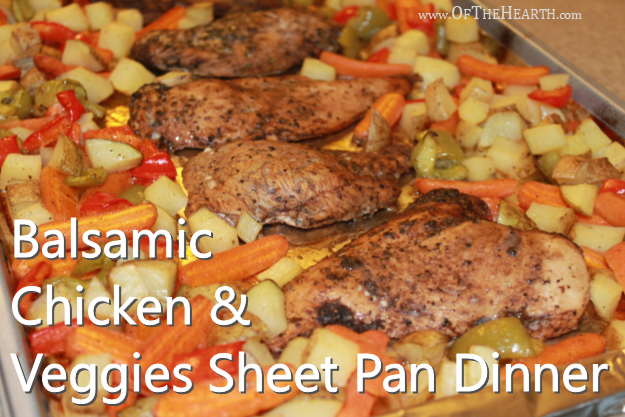 This one tastes quite different from the ranch one, but it is still yummy, rich in veggies, and convenient.
Ingredients
(Adapted from this recipe.)
4 small/medium boneless, skinless chicken breasts
1/4 cup balsamic vinegar
2 tablespoons honey
1 teaspoon Dijon mustard
2 cloves garlic, minced
1/2 teaspoon dried oregano
1/2 teaspoon dried basil
Salt and pepper
2 tablespoons oil (I use avocado oil)
Approximately 2 lbs. veggies for roasting (potatoes, carrots, bell peppers, grape tomatoes, zucchini, etc.)
Instructions
In a medium bowl, whisk together the balsamic vinegar, honey, Dijon mustard, garlic, oregano, basil, and several dashes of salt and pepper. Marinate the chicken in this mixture for 30 minutes to overnight.  Remove the chicken and discard the marinade.
Preheat the oven to 400°F. Lightly oil a large, rimmed baking sheet (line the sheet with foil first for easier cleanup). Wash and cut the vegetables. Place on the pan, drizzle with the oil, and sprinkle with salt and pepper. Toss the veggies on the pan using your hands, then push them to the edges. Place the chicken in the center of the baking sheet.
Put into the oven and roast until the chicken is completely cooked through, about 25-30 minutes. Serve immediately. Yield: 4 servings.
Notes
As with most sheet pan dinners, this one is super easy to prepare and cleanup is a breeze! The marinade gives the chicken a wonderful savory flavor that complements the roasted veggies so well. You can use whatever veggies you prefer. I use potatoes, carrots, bell peppers, and zucchini. These all work well with it!
I love that this easy-to-prepare dinner is nutritious, affordable, and tasty! What veggies would you use in it?
Shared at the following:
The Art of Home-Making, Tuesday Talk, and Coffee and Conversation.
Save
Save
Save
Save
Save
Save
Save