Do you ever struggle to get things done because you just don't want to work on them? I've recently been struggling with this in a few areas of my life. There's the stack of assorted documents on the corner of my desk that I need to go through. There's the basket of pants and shirts that need mended. What is it for you? Maybe the overstuffed, disorganized closet that needs to be cleaned out? Maybe the exercise video you committed to completing three times each week, but can only seem to get done once a week? I'm not talking about times when life simply gets busy; I'm talking about times when sloth sets in.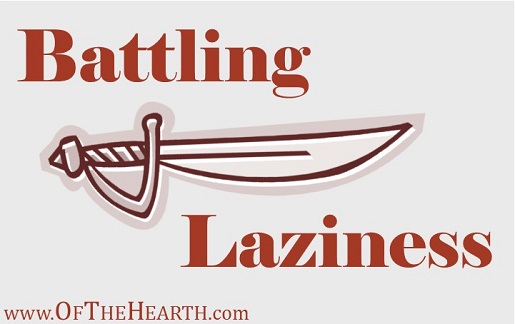 In my experience, laziness isn't discussed that often in American churches, but the Bible has some serious things to say about it. Laziness leads to poverty, hunger, and lack (Proverbs 19:15, Proverbs 20:4 & 13, and Proverbs 24:30-34). The faithful are admonished to avoid it (Proverbs 10:15, Ephesians 4:28, Colossians 3:23, and 2 Thessalonians 3:10-12). Sometimes I find that avoiding it is easier said than done. What practical things can be done in these times to overcome the laziness?
Practical ways to address laziness
Consider why you should complete the task

. Why get up and exercise? To improve your health. To steward the body God gave you. Why clean off the desk? To make your workspace more efficient. To make sure important documents are safely stored. Consider all the reasons you should complete the task so these factors can boost your motivation.

Get plenty of sleep and exercise

. If lack of energy is a contributing factor to the laziness, then getting recommended amounts of sleep and exercise can help you increase your energy levels.

Break down the task into small pieces

. Small tasks are often less intimidating and easier to complete. As you see yourself moving closer towards completion with each small task that is accomplished, your motivation to work diligently may increase.

Decide what one thing you'll get done today

. If you're faced with an overwhelming multitude of tasks, select one that will get done before you go to bed today. Make it a priority. Stay focused. Work on it first. Don't schedule any new activities. Don't make excuses. Do whatever it takes to get that one task completed. Select a new task tomorrow and do the same thing.

Get accountability

. Let a good friend or a family member know you've been struggling to get tasks done. Ask the loved one to provide accountability by checking in with you and asking how you're doing in this area.

Eliminate distractions

. Distractions make convenient excuses to avoid the tasks you need to complete. If the distractions are related to technology (TV, social media, frequent phone calls, etc.) then unplug or turn off the devices responsible. (Unfortunately, some distractions—like kids—can't be turned off,  so you'll have to find another way to move beyond these!)

Ask God for help

. Confess your struggle in prayer and ask the Lord for new vision and motivation. His grace is sufficient for this struggle, too.
Considering why I should complete the task and getting accountability have been the strategies that have helped me the most in this particular season. Have you struggled with laziness in any areas of your life lately? What suggestions can you share for overcoming it?
Shared on the following link-ups:
Faith and Fellowship Blog Hop, Word Filled Wednesday, Titus 2sday, Titus 2 Tuesday & Making Your Home Sing.