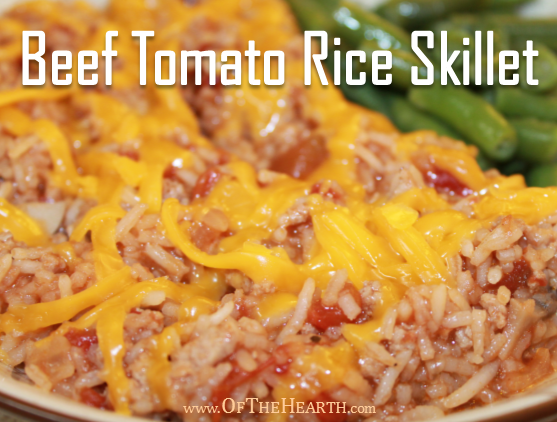 I came across this recipe while searching for frugal dinner ideas. In addition to being frugal, this no-frills dish is easy to prepare and uses common ingredients, making it perfect for nights when you're short on time or need to make a trip to the grocery store.
Ingredients
(Adapted from this recipe for Porcupines Skillet.)
1 pound ground beef (or ground turkey)
1 packet dry onion soup mix
1 ½ cups hot water
¾ cup uncooked long-grain rice
1 (14.5 ounce) can diced tomatoes
1 cup shredded cheddar cheese
Instructions
In a large skillet, crumble the meat and brown it over medium heat. Drain off the fat (if needed) and stir in the onion soup mix, water, rice, and tomatoes. Stir together, then cover and cook over low heat for 25 minutes or until the rice is tender. Sprinkle with cheese before serving. Yield: 5 servings.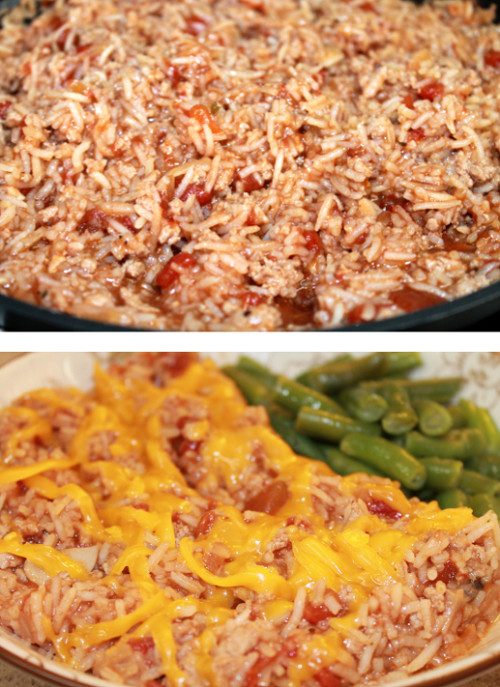 Notes
As you can see, it doesn't take much time or effort to prepare this dish. I love that it's a one-skillet meal because this makes cleanup so easy! If you want this dish to cook in the 25 minutes indicated in the instructions, then be sure the water you add to the skillet is hot. This helps the long-grain rice cook in a timely manner. If you need to prepare the dish more quickly, then try using a rice that cooks in less time. I like using basmati rice when I need it to cook quickly. This cuts about 10 minutes off of the cook time.
The ingredients for this dish cost approximately $7.38, which means each serving costs about $1.47. I serve it with a veggie on the side, which increases the cost to about $1.77 per serving. As I said at the beginning of this post, this is a no-frills dish. It is savory and filling, but not fancy. If you desire something with a little more flair, then feel free to try it with Rotel® tomatoes instead of regular diced tomatoes or add an additional veggie, such as diced bell pepper.
What are your go-to dishes on nights when you need something that is easy to prepare?
Shared at the following:
Coffee and Conversation, Tuesdays with a Twist, The Art of Homemaking, Totally Terrific Tuesday, What's for Dinner? and Weekend Potluck.
Save
Save
Save
Save
Save
Save
Save
Save
Save
Save