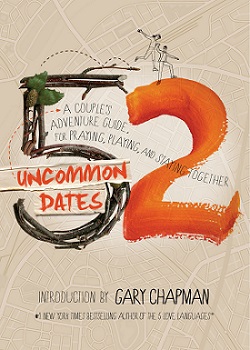 I was thrilled when I was contacted earlier this summer about reviewing 52 Uncommon Dates: A Couple's Adventure Guide for Praying, Playing, and Staying Together, a new book by Randy Southern. As many of you know, I've written previously about the importance of dating your spouse. It's often difficult to find time to date and to come up with novel date ideas, so I was eager to see what Southern has to say.
I must confess that I also felt a little cynical about the book. Could Southern really provide that many "uncommon" ideas for dates? After all, earlier this year I came up with a list of over 100 date ideas. What could I have missed? It turns out that I did miss a few! Moreover, Southern outlines a very unique and deliberate approach to his suggested dates.
Southern introduces each date with a Bible verse and a quote by Dr. Gary Chapman. Why a quote by Gary Chapman? You'll see here in a minute. Each introduction is accompanied by the following topics:
Set the scene – A brief description of the date.
Make it happen – Step-by-step instructions for making the date happen.
Finish strong – Discussion questions for reflecting on the date.
Mind your language – A brief discussion of how to use the date to reach out to spouses with particular love languages. (This is why Southern introduces the dates with quotes from Gary Chapman, author of The 5 Love Languages).
Take it to God – Prayer points to cover while praying over the date.
Dig deep – Scripture passages to help in applying lessons learned from the date.
As you're likely gleaning, this book contains a whole lot more than a list of date ideas! What about the dates, though? They're very diverse. Some are simple and some are elaborate; some can be completed in a couple's own home, while others will take the couple out into the community. Though your geographic location or other factors may hinder you from completing one or two of the dates, most couples will be able to complete the vast majority of them.
This book is a great tool for any married couple, regardless of how long they've been married. 52 Uncommon Dates could also be utilized by a seriously dating or engaged couple, but they would have to use discretion because there are a couple of dates that would not be suitable for an unmarried couple. Personally, I think the book would make a great wedding gift for a couple because it would encourage them to continue dating after the wedding and to do so deliberately.
The physical book is pretty small (it fits in my purse or my husband's back pocket), so it can easily be taken with you on a date so you can utilize the prayer points and discussion questions. Don't let the small size fool you. It contains a lot of good ideas!
How do you come up with novel date ideas? Do you take steps to grow spiritually from your dates?
A complimentary copy of this book was provided to me by the publisher in exchange for an honest review.
Shared on the following link-ups:
Wedded Wednesday, Living Proverbs 31, Motivation Monday, Making Your Home Sing, WholeHearted Wednesday, Works for Me Wednesday, Titus 2sday & Titus 2 Tuesday.