I feel that my husband and I handle conflict in our marriage relatively well, so I've never sought out a book that specifically addresses how to handle conflict in marriage. However, when I received an email about an opportunity to review a copy of Love at First Fight, a humor-laced book about conflict by Carey and Dena Dyer, I figured I might as well give it a try. If I'm going to read about fighting and conflict, it might as well be from a resource that gets me laughing, right?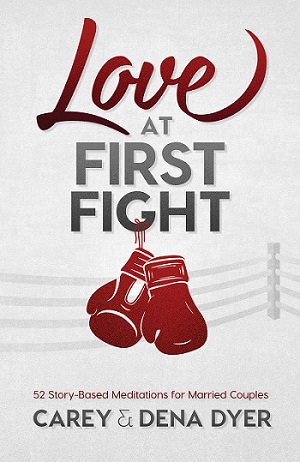 The Dyers' book consists of 52 story-based meditations about conflict-related topics: communication, empathy, forgiveness, etc. Each reflection is preceded by a Bible verse and followed by a section ("Taking off the Gloves") where the authors provide practical action steps to apply the reflection. Brief "Tips from the Pros" (snippets of advice from real life couples) conclude each reflection. The reflections themselves are stories from the Dyers' marriage. These are presented in a "he said-she said" format, so you see how each spouse sometimes interprets the same situation differently.
This book really is quite humorous. Part of this is because of the way the authors couch their stories and advice. Here's my favorite example:
"'Honey,' I said, 'Thanks so much for getting the groceries. But when it comes to putting them away, I think you might benefit from an orderly system I learned from my mother.'
It's a good thing there wasn't an iron skillet in our almost-kitchen, or I'd have been seeing stars. Take my advice, men: In the name of hospital emergency rooms everywhere, never invoke the name of your mother for at least the first year of marriage." (p. 20)     
Another reason the book is humorous is because you see you and your spouse in the stories. You find yourself thinking been there, done that as you read.
The practical action steps suggested at the end of each reflection are one of the best features of the book. They are useful and many would make great date night activities. Though succinct, the tips from the pros are inspirational because they come from diverse couples who have been married for different lengths of time.
Though this book would be an enjoyable read for any couple, I honestly don't think it would be exceptionally useful to every couple. It seems to be written with newlyweds in mind and would be great for facilitating conversations between newly married couples about a number of topics that often cause conflict. In fact, it would make a great bridal shower or wedding gift. Likewise, it would be useful for couples who are wanting to read a marriage book that isn't too deep, but still contains useful information. This book may not be as beneficial to seasoned couples and it certainly isn't thorough enough to assist couples who are experiencing serious conflicts in their marriages.
Though one spouse can read and benefit from it on his or her own, it's optimal for couples to read Love at First Fight together. Even if you don't connect with or learn from everything the authors share, you'll definitely laugh. Enjoyment of humor alone can benefit your marriage, so you're sure to benefit from this book in some way!
What's the silliest thing about which you and your spouse have experienced conflict? Are you able to laugh at this in retrospect?
As noted above, a complimentary copy of this book was provided to me by the publisher in exchange for an honest review. This post contains an affiliate link (click here to read about what this means).
Shared at the following:
Coffee and Conversation, Monday's Musings, and From House to Home.
Save
Save
Save
Save
Save
Save
Save
Save