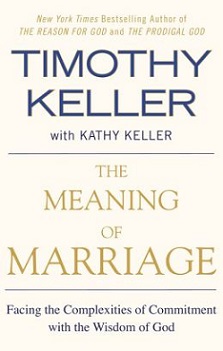 Marriage is a prevalent theme throughout the Bible. We see its significance from the beginning of Genesis (the marriage of Adam and Eve) to the end of Revelation (when Christ comes for His bride, the church). In light of this, it should come as no surprise that marriage has historically been viewed as a foundational institution for society and that it is currently the subject of great controversy.
In The Meaning of Marriage, Timothy Keller presents a Scripture-based vision for marriage. At the heart of this vision is the understanding that "the gospel helps us to understand marriage and marriage helps us to understand the gospel" (p. 15). With this understanding, he refutes modern culture's view that marriage is about finding one's "soul mate" and personal fulfillment. He also touches on a number of other important topics including gender roles, the purpose of sex in marriage, and singleness.
Though The Meaning of Marriage is not a how-to manual for marriage, Keller presents many principles in it that we can use as the basis for the practical steps we take to strengthen our marriages.
"Love without truth is sentimentality; it supports and affirms us but keeps us in denial about our flaws. Truth without love is harshness; it gives us information but in such a way that we cannot really hear it" (p. 48).
"A marriage relationship unavoidably entails self-denial, even in the most mundane day-to-day living. It is impossible to have a smooth-running relationship with even one person, let alone two, always feeling that his or her desires should have preeminence because of all he or she has been through in life" (p. 62).
"The Christian principle that needs to be at work is Spirit-generated selflessness—not thinking less of yourself or more of yourself but thinking of yourself less. It means taking your mind off yourself and realizing that in Christ your needs are going to be met and are, in fact, being met so you don't look at your spouse as your savior" (p. 66).
"The reason marriage has the power to show me what's wrong with me is because my spouse sees me to the bottom in a way that even I can't see myself. That is why her affirmation, verdict, and blessing have so much credibility and power" (p. 162).
My husband and I both enjoyed this book immensely. We appreciate that though Keller drew inspiration from his own marriage and his experiences pastoring both singles and married couples, his discussion is based on the Bible. His conversational tone makes it easy to stay engaged, but this definitely isn't a book you can read casually. It takes attention and critical thinking to really benefit from the text! Given that marriage is the context that God designed for the rearing of children, we did find it curious that Keller didn't address the topic of childbearing.
One of the most unique characteristics of this book is that though it is a book about marriage, it is not written exclusively for married couples. It is a book for everyone in the church. As I noted earlier, marriage is a prevalent and significant theme throughout the Bible. Thus, it is beneficial for every Christian—regardless of marital status—to understand the meaning of marriage.
Keller's teaching, provided in a gentle but unwavering tone, is extremely pertinent given we live in a time where marriage rates are at an all-time low, divorce rates are at an all-time high, and the definition of marriage is hotly debated. It will help you have a deeper understanding of your own marriage (if you're married) and will equip you to effectively articulate a Biblical perspective of marriage. Grab a copy today!
What book have you read recently that you would recommend to others?
Shared on the following link-ups:
Wifey Wednesday, Monday's Musings, Making Your Home Sing & Essential Fridays.