There are many things that I love about Christmas. What I love the most actually precedes Christmas Day: Advent. This period of preparation for the celebration of Christ's birth occurs each year in the weeks before Christmas. Because I value Advent so much, I was thrilled when I received an email about an opportunity to review a new Advent devotional titled Unwrapping the Names of Jesus.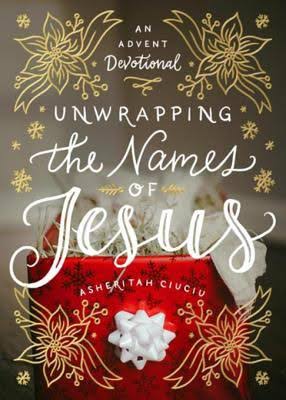 Its author, Asheritah Ciuciu, wastes no time before explaining why Advent activities are so important. Most Christians believe "that Christmas is all about Jesus, yet few of our calendars would reflect that priority" (p. 10). Her book provides a way for individuals and families to step away from the busyness and consumerism and step into the "simple practice of worship and celebration of Jesus" (p. 10).
Ciuciu structures Unwrapping the Names of Jesus around the four weeks of Advent (hope, preparation, joy, and love) that are often commemorated with an Advent wreath. The devotional assumes families are using an Advent wreath, but it is entirely possible to benefit from the book without one. As the title indicates, the book examines the various names of Jesus (Light of the World, Good Shepherd, True Vine, Lamb of God, etc.). I love Ciuciu's explanation of why she chose this topic:
"Like twirling a brilliant-cut diamond in sunlight, meditating on Jesus' names led me to admire the many facets of His character, each beautiful on its own, but when put together comprising a breathtaking picture of the Son of God made man for us (p. 12)."
Unwrapping the Names of Jesus is written in a user-friendly format. The devotions for each Sunday of Advent include:
Relevant Bible verses
An explanation of that week's theme (hope, preparation, joy, or love)
Discussion questions
A carol to sing
Each daily devotion that follows discusses the following:
A reading about a name of Jesus (Prince of Peace, Bread of Life, Lion of Judah, etc.)
A challenge (questions to consider and actions to take in response to the reading)
A sample prayer to pray
Recommended Bible passages for further study
If you've read the Bible, then you'll be familiar with the passages used by Ciuciu as she explores the names of Jesus. She delves into each name enough to provide a little fresh perspective. However, the daily devotions are relatively short (they can be read aloud in just a couple of minutes), so even busy families should be able to find time to read them together. At the end of each week's devotions, Ciuciu provides activity recommendations (service-oriented activities) that are a great way to help the whole family understand that week's theme!
If you don't have any Advent traditions in your family, I encourage you to begin some. Unwrapping the Names of Jesus would be a great place to start! If your family already has Advent traditions, this would make a nice addition to refresh your worship and celebration of Jesus.
How does your family commemorate Advent? What devotionals or activities make your celebration meaningful?
A complimentary copy of this book was provided to me by the publisher in exchange for an honest review.
Shared at the following:
Grace and Truth and Moments of Hope.
Save
Save
Save
Save
Save
Save