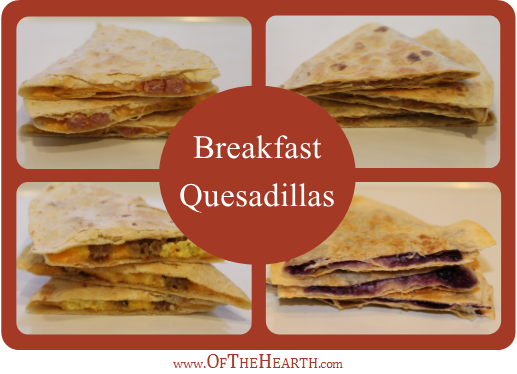 As I noted a couple of weeks ago, I've been making quesadillas with ingredients that aren't exactly traditional. Given that quesadillas can be made quickly and easily, why not give them a try for breakfast?
Breakfast quesadilla fillings
I've been filling breakfast quesadillas four different ways:
Ham and cheese
Peanut butter, honey, and banana
Sausage, egg, and cheese
Blueberries and cream cheese
Place any of these fillings on one half of a tortilla. Fold the tortilla in half and place it in a large skillet over medium heat until the portion of the tortilla in contact with the skillet turns golden brown. Flip it and cook the other side until golden brown. Allow the quesadilla to cool for a few minutes before using a knife or pizza cutter to cut it into wedges.
Though all of these fillings are tasty, the cream cheese and blueberries make a particularly delicious quesadilla! It's like having dessert for breakfast.
I love making these because they can be pieced together using leftovers. Various meats, cheeses, vegetables, and even fruits go well in them. I think these would also be great on mornings when we have guests visiting. We could set out a spread of various fillings for each individual to assemble one to his or her liking.
Have you ever made quesadillas for breakfast? What do you use as a filling?
Shared on the following link-ups:
Weekend Potluck, Thrifty Thursday, Whatever Goes Wednesday, WholeHearted Wednesday, Works for Me Wednesday & One Project at a Time.