I needed to make some cookies a couple of weeks ago. I could have made regular sugar cookies, but I really wanted to try something new. I didn't want to run to the store, though, so I tweaked a regular sugar cookie recipe to include some ingredients that I had on hand. The result was fabulous!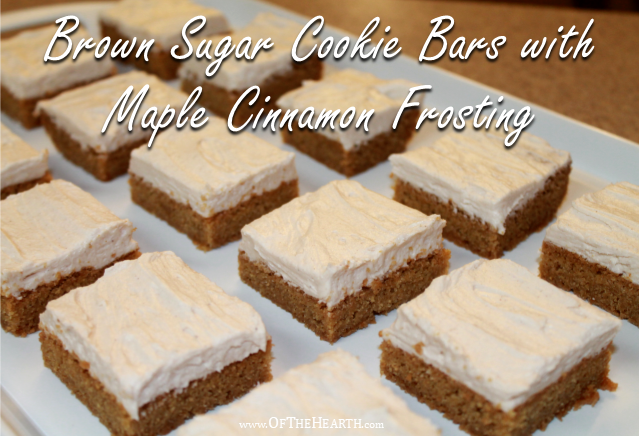 Though these aren't specific to Christmas, I'm sharing the recipe in December because their rich flavor would be a great addition to your tray of Christmas cookies!
Ingredients
For the cookie bars
2 3/4 cups all-purpose flour
1 teaspoon baking soda
1/2 teaspoon baking powder
1 cup butter, softened
1 cup brown sugar, packed (I used light brown sugar)
1/2 cup white sugar
1 egg
1 teaspoon vanilla extract
For the frosting
4 cups powdered sugar
1 cup butter, softened
2 1/2 tablespoons maple syrup
A couple dashes of ground cinnamon
1-3 tablespoons milk
Instructions
For the cookie bars
Preheat the oven to 375°F (190°C). In a medium bowl, stir together the flour, baking soda, and baking powder. Set aside.
In a large bowl, cream the butter and sugars until smooth. Beat in the egg and vanilla. Gradually blend in the dry ingredients. Press into a lightly greased 9×13 inch baking dish.
Bake for 18 to 22 minutes in the preheated oven, or until the edges begin turning golden brown. Let cool completely before frosting.
For the frosting
Place all of the ingredients except the milk in a mixing bowl. Use a spoon or spatula to gently stir the ingredients. Once the ingredients are just incorporated, begin beating them with the whisk attachment of a stand mixer or hand mixer. Add the milk, a little at a time, until the frosting has thinned to your preferred texture. Gently spread onto the cooled cookie bars. Yield: 24 cookie bars.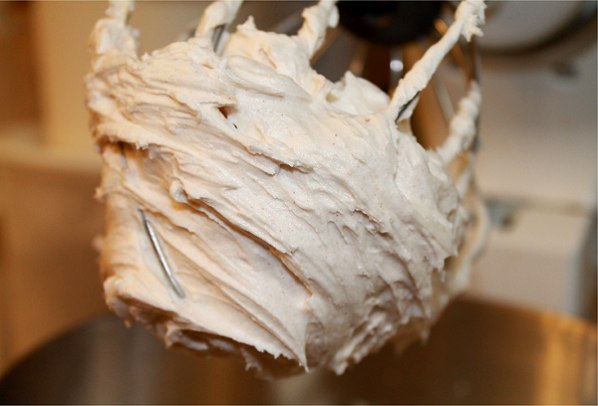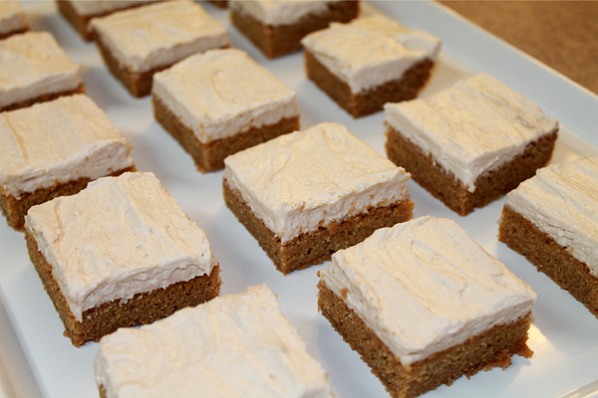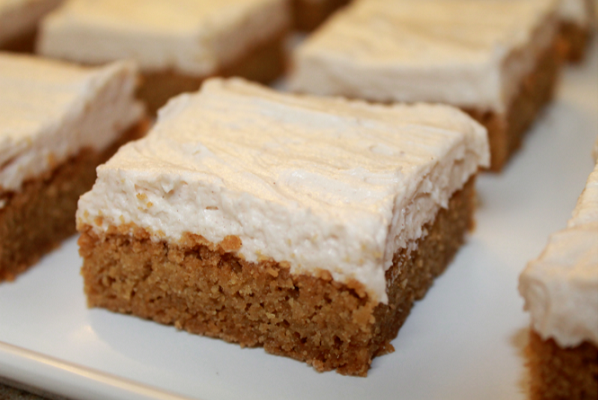 Notes
Everyone in my family loves brown sugar, so these cookies were a huge hit! They were soft and super rich. The cookie bars were tasty enough to eat on their own, but the frosting put them over the top! It was amazing. I think I'll make the frosting to top the cinnamon rolls I'm making on Christmas morning. The cookie-frosting combination was truly the best thing I've eaten in a while!
If you'd rather have traditional cookies, you can make them with this dough. Instead of pressing it into a baking dish, roll rounded teaspoons of it into balls and place these onto ungreased cookie sheets. Bake for 8-10 minutes. Allow to cool before removing the cookies from the sheets (you should have about 4 dozen cookies).
This is a recipe you really don't want to skip over. It transforms the humble sugar cookie into a sophisticated confection. Give it a try!
What cookies are you making this Christmas?
Shared at the following:
Friday Frivolity, What's for Dinner?, Sunday Dinner Bell, Too Cute Tuesday, Whisk It Wednesday, and Weekend Potluck.