Over a year ago I set out to create a home management notebook. It's taken me far too long, but I've finally completed this task!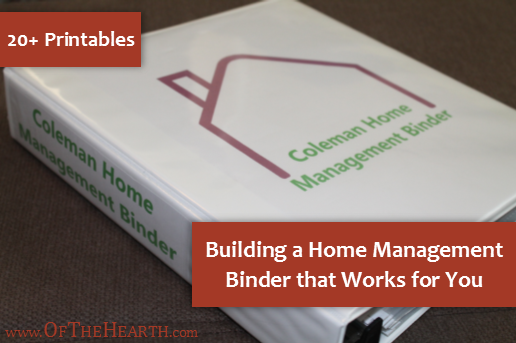 Why did it take so long? Sometimes I found myself dragging my feet (you're mistaken if you think I write posts about things like laziness because I think you need to change…I write these posts because I need to change). At other times I found myself trying to make someone else's setup fit my situation.
When I first began working on the notebook, I turned to Pinterest and Google to find pages I could print and use. After all, numerous women have made available an abundance of free home management printables. I soon realized the same reality that I encountered when developing my cleaning schedule last year: One size does not fit all.
Subsequently, I developed my own home management binder pages—pages that meet the needs of my family. If you haven't assembled a home management binder that works for you (or perhaps you haven't even considered having one), then the following may be of help.
Questions to ask when assembling a home management binder
What topics need to be addressed in the binder?

Your life situation will dictate which topics need to be included in your binder. For example, if you're a parent, you may want to include things like your kids' vaccination records or school calendars. If you don't have children, then you likely won't reserve space for these types of documents. Take time to brainstorm about all you want to include! This can be the most challenging aspect of assembling a binder.

Do I want a printed binder or do I want a digital equivalent?

I'm most familiar with home management notebooks that consist of printed documents contained in three-ring binders, but you could easily create a file of home management documents on a computer and use this in place of a literal binder. This might be especially convenient if you have a tablet.

Do I want one large binder or several small binders?

If you choose to work with printed documents, then you'll need to decide if you want to compile these all in a large binder or if you want to separate them into smaller binders that address specific topics.

How will I make adjustments to the contents of the binder?

Sooner or later the contents of your binder will need to be adjusted. This may be something simple like changing the contact information for a utility provider or it may be something major like adding a category to the binder. Assemble your notebook in such a way that you will be able to make these changes when needed.
My home management binder
I decided to use a large binder (2 in.) filled with printed and handwritten pages. Most of the pages are printed, so when I need to make changes I can change the file on the computer and print an updated version or, for those that are filled in by hand, I can print a new copy and fill it in with the updated information. I've used tabbed dividers to divide my binder into categories. I've written the category names onto white address labels and stuck these to the dividers. This allows me to peel off the labels and change the categories as needed.
For durability, I've placed many of the pages in plastic sleeves. I often write on the sleeves with dry erase markers (crossing tasks off lists, taking quick notes, etc.). The dry erase markings wash off easily when wiped with isopropyl alcohol. These sleeves are also useful for storing receipts, coupons, and other small documents that I need to keep handy.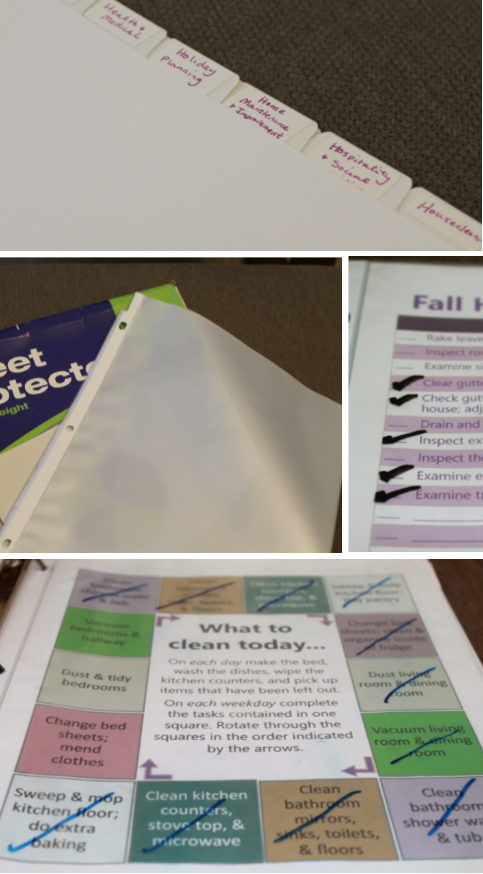 Here are the categories and specific documents that I've included in my binder:
(I've provided small images of the printables that I use in my binder. Click on any image to access a larger, printable version of the respective document.)
Calendars and Schedules
Annual planner
Daily routine
Contact Info for Family and Friends
Addresses and phone numbers of loved ones (in a spreadsheet)
Disaster Preparedness
Health and Medical
Holiday Planning
Home Maintenance and Improvement
Hospitality and Social Activities
List of friends and acquaintances to have over
Meal ideas and recipes
Party ideas
Housecleaning
Household Supply List and Grocery Lists
Little Ones
Menus and Frequently Used Recipes
Current monthly menu and menus from the past year (see monthly menus on the series page)
Frequently used recipes
Miscellaneous
Money and Finances
Personal and Family Goals
Spiritual Growth
Family prayer list
Bible reading plan
List of Bible verses to memorize
Travel
Utility, Insurance, and Other Service Provider Information
Utility provider information
Insurance provider information
Miscellaneous service provider information
Feel free to use any of these printables if you think they will be helpful to you. If they don't meet your needs, then I hope they'll provide some inspiration as you create your own.
Do you have a home management binder? What features make it useful?
Shared on the following link-ups:
One Project at a Time, Frugal Crafty Home, Saturday Soiree, Best of the Weekend, Creativity Unleashed, Thrifty Thursday, Thriving Thursday, Home and Garden Thursday, Whatever Goes Wednesday & Coffee and Conversation.
Save
Save
Save
Save