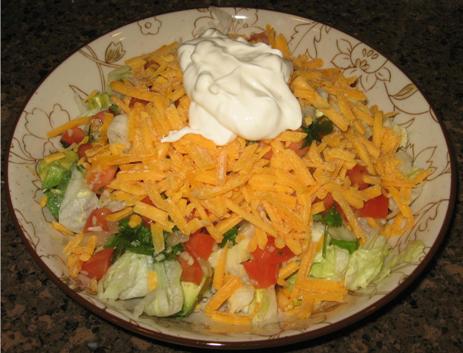 I gladly have burrito bowls as an item on my menu this spring. In addition to being one of my husband's absolute favorites (because they're so tasty!), they are relatively affordable and healthy.
Ingredients
1 ½ cups long grain rice (brown or white)
2 tablespoons lime juice
Dash of salt
 ½ cup chopped cilantro
1 can (15 oz.) pinto beans, partially drained
1 chicken breast, cut into bite-sized pieces
3 tablespoons taco seasoning (or a mix of chili, garlic, and onion powders with red pepper flakes, oregano, paprika, cumin, salt, and black pepper)
¼ cup water
2 cups chopped lettuce
1 ½ cups pico de gallo (chopped onion, garlic, tomato, and cilantro with lime juice)
1 avocado, chopped
2 cups shredded cheddar cheese (or Mexican blend cheese)
6 tablespoons sour cream
Instructions
Follow the package directions to begin preparing the rice. While it cooks, place the chicken in a skillet and cook over medium heat until it is no longer pink. Add the water and 2 tablespoons of the taco seasoning. Let simmer on low until the rest of the meal is prepared.
Place the beans in a small saucepan and add the remaining taco seasoning. Cook the beans over a medium-low temperature until thoroughly heated, stirring occasionally. Once the rice has finished cooking, gently fold in the lime juice and cilantro.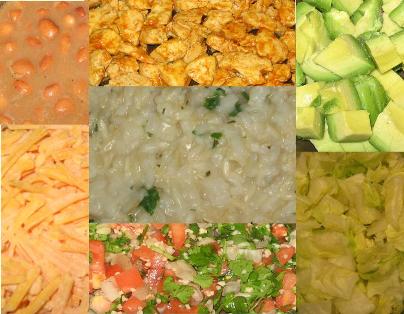 Layer the prepared ingredients in bowls (we do rice first, followed by beans, chicken, avocado, lettuce, pico, cheese, and sour cream). Yield: 4 servings.
Notes
This recipe can be easily adapted to individual preferences. Use black beans instead of pinto beans or beef instead of chicken. Try it with pepper jack cheese. Add corn or jalapenos. If you're in a hurry, skip the pico de gallo and use prepared salsa instead. Whatever works for you. In fact, I think it would make a great meal when having guests over because each person can assemble his or her bowl however he or she prefers.
The ingredients listed above cost $9.23, which is $2.31 per serving (this price includes everything but the taco seasoning and salt, which are staples in my house). We're pretty frugal, so this is actually one of the more expensive dishes on our menu. However, we're willing to splurge on it because we can enjoy this delicious dish for a small fraction of the cost of burrito bowls at some popular fast casual restaurants.