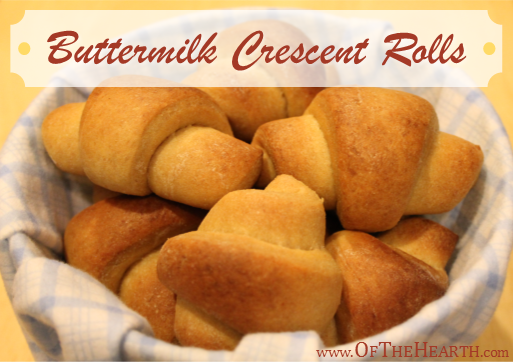 My husband and I really enjoy the flavor of Honey Wheat Butterhorns, but it's nice to have a little variety. This weekend I made some Buttermilk Crescent Rolls for us to try.
Ingredients
(Adapted from this recipe.)
2 (.25 ounce) packages of instant yeast (4 ½ teaspoons)
3/4 cup warm buttermilk
1/2 cup white sugar
1 teaspoon salt
2 eggs
1/2 cup butter, softened
4 cups all-purpose flour or whole wheat white flour
1/4 cup butter, melted
Instructions
Mix the yeast into 2 cups of the flour. Stir in the sugar, salt, eggs, butter, and buttermilk. Beat until smooth. Mix in the remaining flour. Scrape the dough from the sides of the bowl. Knead the dough for a minute or two, then cover and let it rest for 20 minutes (the dough will not rise at this time).
Divide the dough in half. Roll each portion into a 12-inch circle and cut into 12 wedges. Roll up the wedges starting with the wide ends. Place the rolls point sides down on baking sheets covered in parchment paper. Cover and let rise in a warm spot until double in size (usually takes about 1 hour).
Bake at 400°F for 10 minutes or until the rolls are golden brown. Brush the tops of the rolls with butter when you pull them from the oven. Yield: 24 rolls.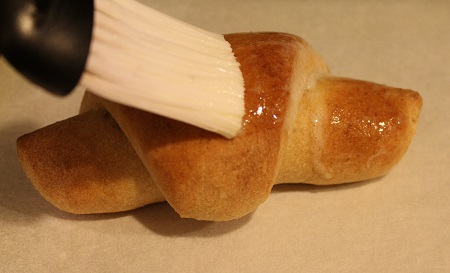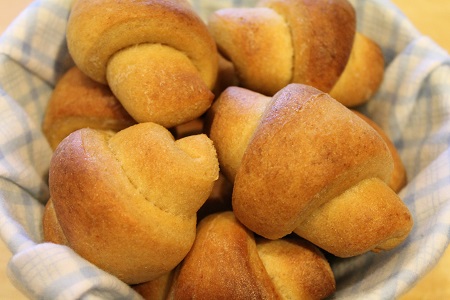 Notes
The buttermilk gives these crescent rolls a great flavor. When stuffed with egg and bacon or sausage they make yummy breakfast sandwiches. They also go well on the side of dinner.
I use whole wheat white flour so the color of the rolls turns out a little darker than if you were to use all-purpose flour. Keep in mind that these are crescent rolls, not croissants, so though they are soft, they aren't light and flaky in texture. These were just the change of pace we needed!
What breads have you enjoyed making lately?
Shared on the following link-ups:
Weekend Potluck, Creativity Unleashed, Thrifty Thursday, Thrive @ Home, Works for Me Wednesday, One Project at a Time & Homemade Tuesdays.