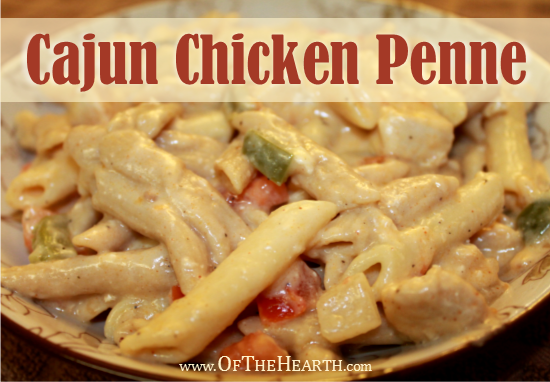 When we eat out at restaurants, my husband often orders Cajun pasta dishes. Because he likes them so much, I decided to add one to our menu this spring. I think he'll be asking for this to be included on future menus!
Ingredients
(Adapted from this recipe.)
3 cups penne pasta (uncooked measure)
2 tablespoons butter
2 boneless, skinless chicken breast halves
2 teaspoons Cajun seasoning (more if you want a really spicy dish)
2 cloves garlic, minced
1/2 of a green bell pepper, diced
1/2 of a red bell pepper, diced
1 medium onion, chopped
1 jar (16 oz.) Alfredo sauce or 2 cups homemade Alfredo sauce
2 roma tomatoes, diced
Instructions
Bring a pot of lightly salted water to a boil. Add the penne pasta and cook for 8 to 10 minutes or until al dente; drain.
Cut the chicken into bite-size pieces. Melt the butter in a large skillet over medium heat. Add the chicken, Cajun seasoning, and garlic. Sauté until the chicken is no longer pink (6-8 minutes).
Add the bell pepper and onion. Sauté for 2 to 3 minutes, stirring frequently. Reduce the heat to low.
Add the Alfredo sauce and tomatoes. Simmer until heated thoroughly. Serve over the prepared pasta. Yield: 4 servings.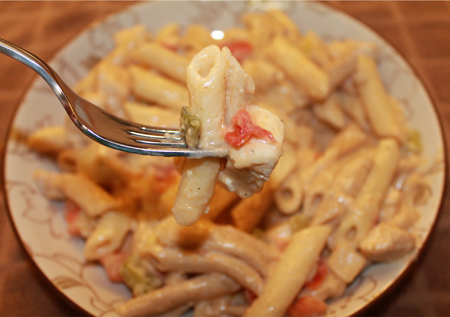 Notes
My husband loved this! I've not eaten the dishes he orders at restaurants, but he said that this has a similar flavor. It had just the right amount of spice and was very filling. I hope to prepare it with grilled chicken sometime, because I think the unique taste of grilled chicken would complement the dish nicely.
Preparing this at home will cost you a lot less than it costs to purchase a similar dish prepared at a restaurant. The ingredients cost approximately $7.73, which is just $1.93 per serving. Toss in some additional veggies or try it with shrimp—whatever sounds good to you! I think your family will enjoy it.
Shared at the following link party:
Coffee and Conversation, Creativity Unleashed, Weekend Potluck, Share the Wealth, Small Victories Sunday, Making Your Home Sing, and Think Tank Thursday.