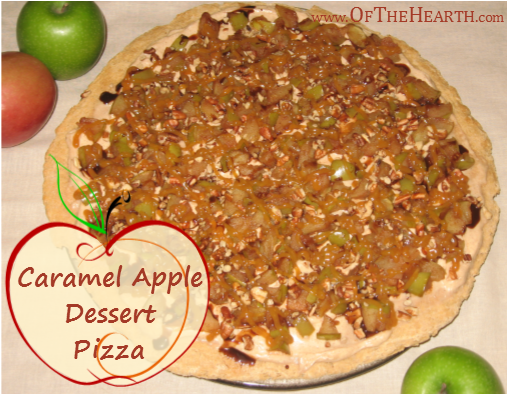 I had a hankering for caramel apples about the time my husband and I needed to take a dessert to our small group. I didn't want to make caramel apples per se, but I wanted to preserve their flavor in a unique dish. I got creative and here's the result.
Ingredients
Pizza dough
– 2/3 cup warm water
– 2 cups flour (I used white whole wheat)
– 1 tablespoon olive oil
– 1 tablespoon honey
– 1 1/2 teaspoons rapid rise yeast
– Dash of salt
Cream cheese "sauce"
– 8 ounces cream cheese, softened
– 1 tablespoon honey
– 1/2 teaspoon ground cinnamon
Apple topping
– 2 tablespoons butter
– 3-4 cups chopped Granny Smith or other tart apple (about 4 medium apples)
– 1/2 teaspoon ground cinnamon
– 1 tablespoon brown sugar
– 1/2 cup chopped nuts (pecans, walnuts, or whatever variety you prefer)
– 1/4 cup chocolate sauce (homemade or commercially prepared)
– 3/4 cup caramel sauce (homemade or commercially prepared)
Instructions
Step 1: Make the dough
Heat the water. Combine the flour, yeast, and salt in a medium bowl. Mix in the warm water, oil, and honey. (I used the dough hook on my stand mixer for this, but it can be completed by hand.) Once the ingredients are combined, knead the dough for about 1 minute.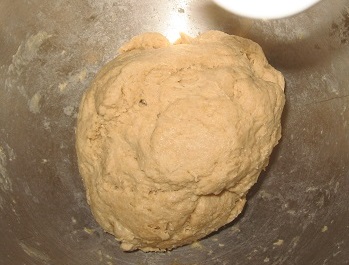 Cover the dough and set it in a warm spot. Allow it to rise until it is double in size (this usually takes about 30 minutes, but it will take longer if your house is cool). Set the oven to 400 degrees so it can preheat.
Step 2: Make the cream cheese "sauce"
In a small bowl, combine the cream cheese, honey, and ground cinnamon. Stir these together until the mixture is smooth and the honey and cinnamon are distributed evenly throughout the cream cheese.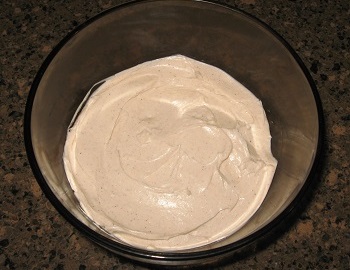 Step 3: Make the apple topping
Place the butter in a large skillet over medium-low heat. As the butter melts, chop the apples (I didn't peel mine, but you can peel yours if you prefer). Add the apples to the skillet and sprinkle with the ground cinnamon and brown sugar. Simmer for 12-15 minutes, stirring occasionally.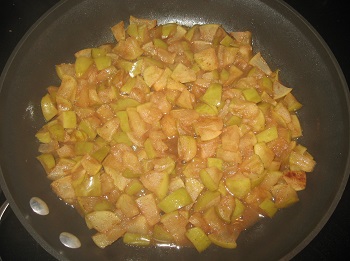 While the apples are cooking, roll or press the dough into a 12 inch circle. Place it onto a pizza pan and bake for 10 minutes. Remove from the oven and quickly top with the cream cheese mixture and the cooked apples.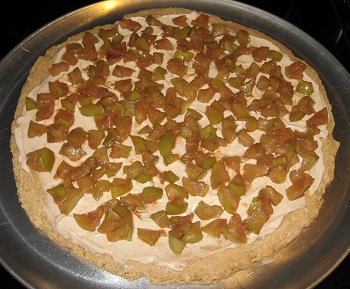 Return it to the oven and bake for an additional 6-8 minutes or until the visible crust is golden brown. Remove the pizza from the oven and immediately sprinkle it with the chopped nuts and drizzle it with the chocolate and caramel sauces. Yield: 12 servings. Best served warm.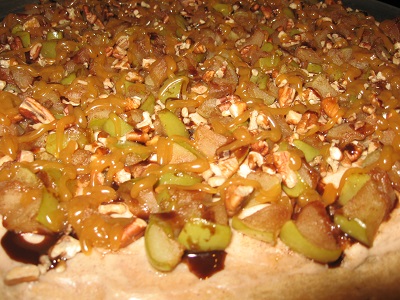 Notes
Many of the dessert pizza recipes I saw online call for sugar cookie dough as a crust. That would certainly work for this recipe. I went with a typical pizza dough because I figured the apples and caramel would be pretty sweet (and they were).
This dish takes a bit of time and effort to prepare. However, because of its great appearance and taste, I'll be adding it to my list of go-to recipes for parties (especially for fall gatherings). I used Granny Smith apples and pecans when I made it, but a number of other apple and nut varieties would work just as well.
As I noted previously, it is best served warm. I believe it'd be especially great served with vanilla ice cream!
Have you cooked or baked with apples this fall? What have you made?
Shared on the following link-ups:
Weekend Potluck, Whatever Goes Wednesday, Frugal Crafty Home, Living Proverbs 31, Making Your Home Sing, Saturday Show & Tell, Essential Fridays, and Friday!