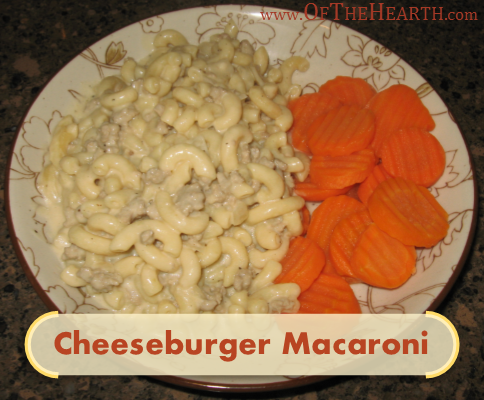 This recipe for cheeseburger macaroni is the result of my efforts to make a healthier, homemade equivalent to the Hamburger Helper® variety that bears the same name (this was one of my husband's favorite meals back before we got married). This homemade version is simple and calls for affordable ingredients. It's also pretty yummy!
Ingredients
1 pound of ground meat
½ of a medium onion, chopped
2 teaspoons minced garlic
3 cups macaroni pasta (uncooked measure)
3 cups beef broth
1 cup water
A couple of dashes of salt and pepper
Additional seasonings to taste (e.g., paprika, chili powder, cayenne pepper, celery seed)
2 cups cheese sauce (see recipe here)
Instructions
Brown the meat with the onion and garlic in a Dutch oven or large skillet; drain (if needed). Stir in the macaroni, broth, water, salt, pepper, and additional seasonings.
Heat to boiling, stirring occasionally. Reduce heat; cover and simmer for about 13 minutes or until the pasta is tender, stirring occasionally. (Keep a close eye on the pot and add a small amount of extra water if the pasta absorbs all of the liquid.)
Stir in the cheese sauce. Simmer for about 5 minutes or until thoroughly heated. Yield: 6 servings.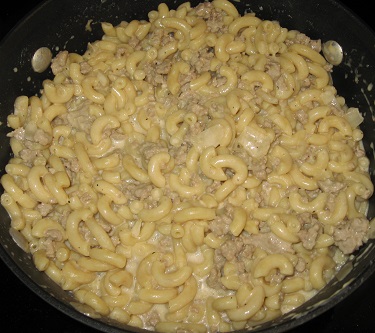 Notes
Like Hamburger Helper®, this dish is convenient. I love that it is prepared in one pot! Unlike Hamburger Helper®, it is free of partially hydrogenated oils, MSG, artificial colors, and a couple of other ingredients that I can't pronounce correctly. Be sure to jazz up the flavor by adding in whatever seasonings you prefer. Of course, if you're seeking a mild flavor you can leave these off the ingredient list.
The ingredients for this dish cost $7.68, which is $1.28 per serving. We usually serve it with a vegetable, which brings the total cost of each serving to $1.45. It can be customized in countless ways, so get creative and enjoy this affordable, nutritious meal tonight!
Shared on the following link-ups:
One Project at a Time, Thriving Thursday, From House to Home, Welcome Home Wednesday, Works for Me Wednesday, & Encourage One Another.