Because it is often more affordable to purchase food items in bulk, I'll frequently plan a couple of meals that use the same ingredients so I can take advantage of this cost savings.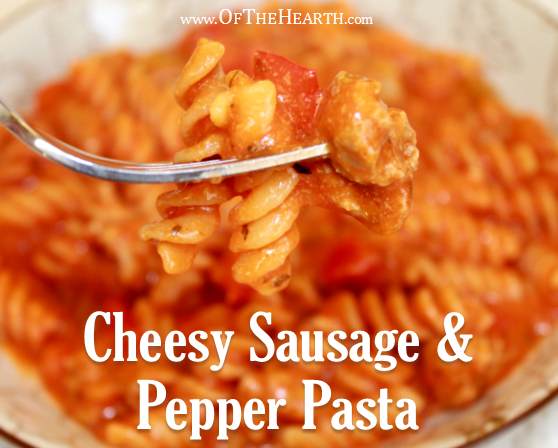 I've done this in the last couple of weeks by making a Tuscan Tortellini Skillet and this Cheesy Sausage and Pepper Pasta. They are both delicious dishes that we plan to make many times in the future!
Ingredients
(Adapted from this recipe.)
1 lb. bulk Italian sausage (no casings)
1 red bell pepper, diced
1 green bell pepper, diced
1 medium onion, diced
3 cups (12 oz.) dry pasta
24 oz. marinara sauce
18 oz. water
1/3 cup half and half
1/2 cup shredded cheese (mozzarella, cheddar, etc.)
Instructions
In a large skillet, brown the sausage over medium heat. Drain off the fat.
Add the bell pepper, onion, dry pasta, marinara sauce, and water. Bring to a boil; reduce the heat. Simmer, covered, for about 20 minutes or until the pasta is tender, stirring occasionally.
Add the half and half and shredded cheese; stir everything together. Remove from the heat, then cover and let sit for 2 minutes or until the cheese melts. Yield: 4 servings.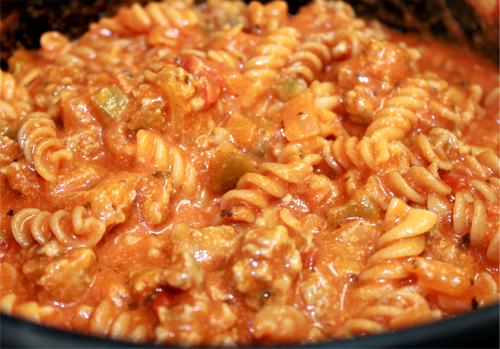 Notes
We love the savory flavor of this dish! The Italian sausage and bell pepper give it a much richer flavor than a dish like traditional spaghetti. It's also very easy to prepare and cleanup is simple because it is prepared in one skillet.
The ingredients for this dish cost approximately $6.67, which means each serving only costs about $1.67!
Its yummy flavor, ease of preparation, and affordable price mean this one is inching towards family favorite territory. Would your family enjoy it, too? What are your favorite pasta dishes to prepare and serve?
Shared at the following:
The Art of Homemaking, Tuesdays with a Twist, Tuesday Talk, Happy Now Link-Up, Weekend Potluck, What's for Dinner? and Monday's Musings.
Save
Save
Save
Save
Save
Save
Save
Save
Save
Save
Save