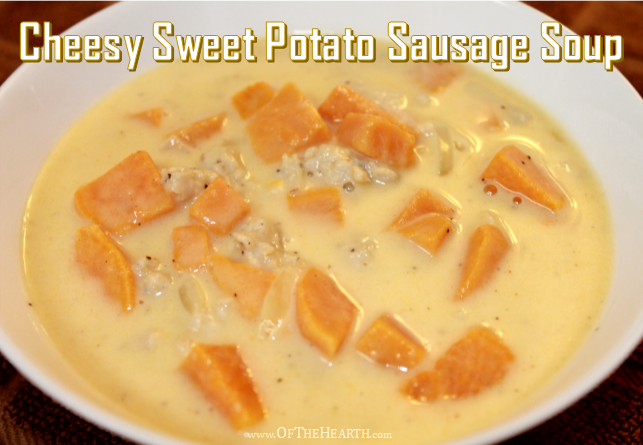 I once whipped up a soup using several foods I had on hand. I didn't have a recipe, but it seemed like the ingredients would work well together. Thankfully, they did! I've been making this Cheesy Sweet Potato Sausage Soup once or twice each winter since then.
Ingredients
3 medium sweet potatoes, peeled and cut into bite-size cubes
32 oz. chicken broth
1 lb. bulk Italian sausage (sweet or spicy)
¼ cup butter
½ cup all-purpose flour
1 ½ cups milk (whole or 2%)
12 oz. shredded sharp Cheddar cheese
2 teaspoons garlic powder
1 teaspoon onion powder
½ teaspoon ground pepper
Salt to taste
Instructions
Bring the chicken broth to a boil in a stockpot. Add the cubed sweet potato and cook at a slow boil until tender, about 15 minutes.
Meanwhile, crumble the sausage in a skillet and cook over medium-high heat until browned. Drain off the fat (if needed). Set aside. In a small bowl, whisk the flour into the milk until dissolved.
Once the sweet potato cubes are tender, reduce the heat under the stockpot. Melt in the butter and then slowly add the milk, stirring constantly until thickened. Stir in the cheese until it is melted and evenly incorporated into the soup. Mix in the garlic powder, onion powder, pepper, salt, and cooked sausage. Allow to cook over low heat until the sausage has warmed to the temperature of the soup, about 5 minutes. Yield: 5 servings.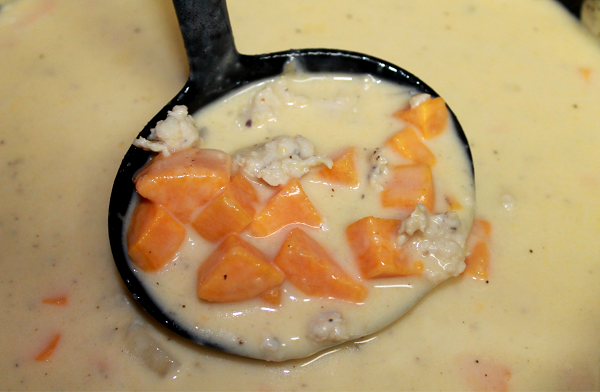 Notes
I made this a few weeks ago when we had really cold temperatures outside. My girls loved it! It has a delightful flavor that is savory and a little sweet. The flavor of the cheese ties it all together nicely!
I don't use a lot of seasonings in this soup because the Italian sausage adds a lot of flavor. However, you are welcome to add other herbs or spices to customize it to your taste preferences.
What soups have you enjoyed this winter?
Shared at the following:
Whisk It Wednesday, The Handmade Hangout, Friday Frivolity, Awesome Life, Weekend Potluck, Share It One More Time, and Homemaking Linkup.