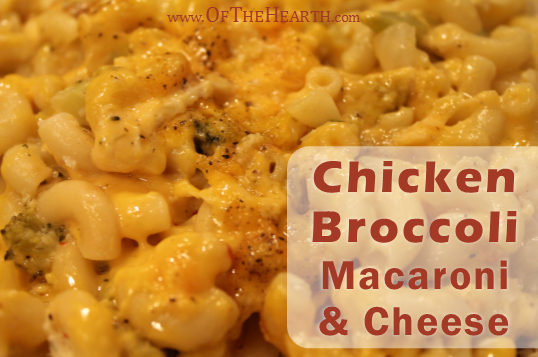 I'm always eager to try new flavors of macaroni and cheese. For our current menu, I wanted to make a variety that contains a vegetable. I was taking a chance when I chose broccoli because my husband doesn't like it that much. To my surprise, he was very pleased with the flavor of this dish.
Ingredients
3 cups macaroni pasta (precooked measure)
1 chicken breast, cooked and shredded
2 cups frozen chopped broccoli
1 medium onion, chopped
2 cloves garlic, minced
4 tablespoons butter, divided
Several dashes salt and pepper
1 teaspoon red pepper flakes
3 ½ cups shredded cheddar cheese
1 ½ cups milk
Instructions
Preheat oven to 350°F. Cook the macaroni according to the package instructions. While the macaroni boils, melt 2 tablespoons of the butter in a medium skillet. Add the broccoli, onion, and garlic; sauté until they are tender.
Once the macaroni is done boiling, drain it and return it to the pot in which it was cooked. Stir in the shredded chicken, remaining butter, salt and pepper, red pepper flakes, and sautéed veggies.
Place one-third of this mixture in a greased oven-safe bowl or casserole dish. Sprinkle with one-third of the shredded cheese. Repeat twice, so you have a total of three macaroni-cheese layers. Pour the milk over the top and sprinkle with additional salt and pepper.
Bake uncovered for 30-35 minutes or until it is thoroughly heated and the top layer of cheese is light brown and crisp. Yield: 5 servings.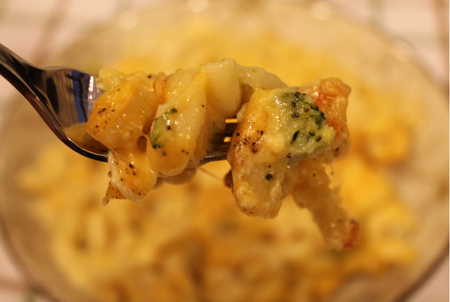 Notes
My husband had seconds and he described this as both "tasty" and "yummy." I loved its savory flavor and creamy texture. It's definitely going to be included in our repertoire of macaroni and cheese dishes. The flavor of the broccoli was very subtle. It was the cheese we noticed, and that's why most of us eat macaroni and cheese! The red pepper flakes did give this dish a bit of zing, so you might reduce how much you use if you have children (or adults) who don't like spicy foods.
The ingredients for this dish cost approximately $7.01, which is just $1.40 per serving. That's a good price for a delicious dish! I hope you get a chance to try it.
Have you had any unique flavors of macaroni and cheese recently?
Shared on the following link-ups:
Think Tank Thursday, One Project at a Time, Teach Me Tuesday, Living Proverbs 31, Frugal Crafty Home, Making Your Home Sing, Weekend Potluck, Inspiration Spotlight and Creativity Unleashed.