I've always enjoyed eating chicken lettuce wraps at Asian food restaurants, but until recently I'd not made them at home. Most chicken lettuce wraps contain a sauce made with soy, so who knew I'd finally make them at home when I had to plan a dairy and soy free menu?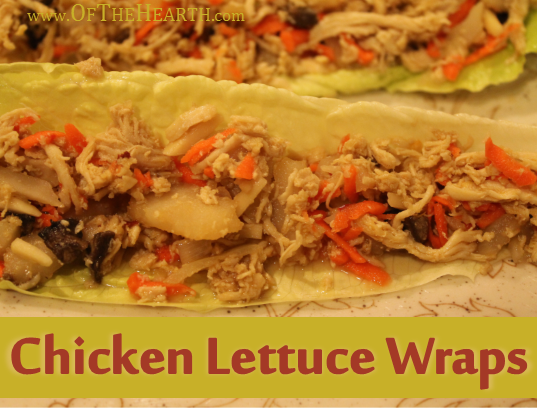 Thanks to coconut aminos, a soy-free seasoning alternative to soy sauce, we're enjoying these incredibly tasty chicken lettuce wraps. They're so delicious that I wish we had tried them a long time ago!
Ingredients
(Adapted from this recipe.)
2 boneless skinless chicken breasts
1 tablespoon plus 1 1/2 teaspoons peanut oil, divided
3/4 cup chopped fresh mushrooms
1 can (8 oz.) water chestnuts, drained and diced
1 tablespoon minced crystallized ginger
1 medium onion, finely chopped
3 tablespoons rice vinegar
3 tablespoons coconut aminos
1 teaspoon minced garlic
1/2 teaspoon crushed red pepper flakes
1 cup shredded carrots
1/3 cup slivered almonds
9 lettuce leaves (I used romaine, but Boston or even iceberg lettuce would work well)
Instructions
In a large skillet, cook the chicken in 1 tablespoon of oil for 3 minutes. Add the mushrooms, water chestnuts, ginger, and onion. Cook 5-7 minutes or until the chicken is no longer pink. Drain and shred the chicken.
In a small bowl, whisk together the vinegar, coconut aminos, garlic, red pepper flakes, and remaining oil. Add the vinegar mixture, carrots, and almonds to the chicken mixture. Spoon onto lettuce leaves. To eat, fold over the sides of the lettuce leaves to create wraps. Yield: 3 servings.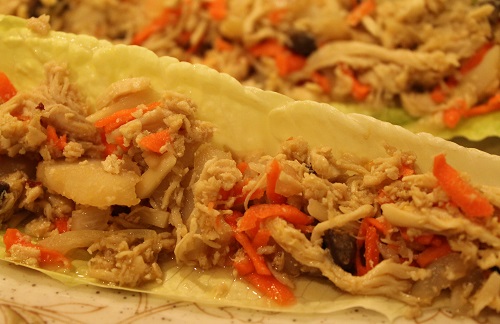 Notes
We were very impressed with the flavor of these wraps! Given they contain ginger, garlic, and red pepper flakes, I thought they might be a little spicy. They weren't, but they did have a rich, savory flavor. My husband doesn't like carrots or nuts, but he ate both in this dish without making any comment except about how good they were!
The ingredients for this dish cost approximately $7.59, which is $2.53 per serving. We will definitely be making these flavor-packed lettuce wraps again, even when we don't need a soy-free menu!
Shared on the following link-ups:
Thriving on Thursdays, Making Your Home Sing, Saturday Soiree, Weekend Potluck, Creativity Unleashed, Thrifty Thursday, One Project at a Time, Titus 2sday, & Titus 2 Tuesday.
Save